Blood and all, it's like a series of rebirths, allowing Nevena, or whatever she should be called now, to escape the constraints of patriarchy, change gender and sometimes species, and be played by multiple actors. , including Noomi Rapace and Alice Englert. the two most recognizable names in the cast.
It's not a completely new idea, but it's promising, and Stolevski isn't afraid to go where it leads: the protagonist, for example, experiences sex from both a male and a female point of view. But much of it feels under-imagined, too slippery for his own good, as if the society we glimpse is little more than a backdrop for a spiritual journey.
In fact, the strained relationship between Maria and her former student is about the only source of real drama. Almost everything else is impressions woven together by a whispery Terrence Malick-like voiceover, subtitled in a way somewhere between Joycean stream-of-consciousness and Yoda language: "I see new rivers opening up within me. Whoosh, they buzz."
Boxy Academy aspect ratio aside, Stolevski and cinematographer Matthew Chuang borrow heavily from Malick's repertoire of visual mannerisms (off-center close-ups, actors shot hand-in-hand from behind). To be fair, I must say that Malick has never given us a scene involving a line of masturbating men being surreptitiously watched by a witch dressed as a dog, although even this isn't as graphic as what you might be imagining.
Mark Bradshaw's score, with its hymn-like piano melodies, reinforces the sense of archaic religiosity, which is curious in a way, given that Christianity openly figures primarily as a force directed at the persecution of witches.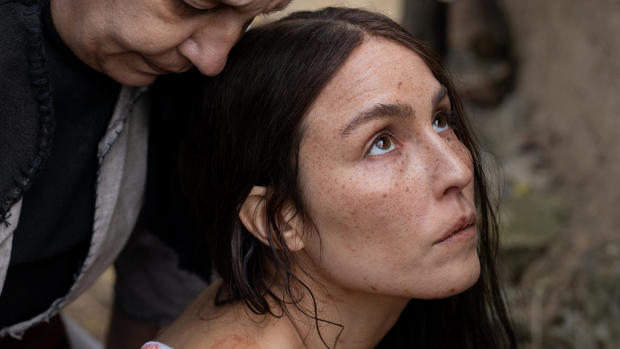 But it underlines the paradox of a film that, in a certain way, pretends to be a provocation, but that preserves a certain sweetness, even a sentimentality. This is the story of a seemingly innocent woman whose freedom depends on her capacity for violence, but her implications are never properly explored.
Instead, we are left with the notion of a heroine or hero who is everyone and no one, permanently alienated but all-encompassing. This is, perhaps, a symbol of what it is to be an artist, though I'll give Stolevski the benefit of the doubt, as the idea somehow gives me goosebumps more than any other gore.
A cultural guide to going out and loving your city. Subscribe to our Culture Fix newsletter here.