As summer vacation winds down, the days grow shorter, and kids prepare to head off to school, preschool, and daycare, they could find themselves with an unwelcome classmate: COVID. Yet despite the prospect of another surge in cases, a remarkably low percentage of young children have been vaccinated against the disease. The US Centers for Disease Control and Prevention recommends that children get vaccinated against COVID. So why have so few parents refrained from vaccinating their children?
The Food and Drug Administration authorized COVID vaccines for children ages six months to four years, the latest age group to be eligible, in June. However, only 3.5 percent of US children in that group have received at least one dose, according to the CDC. And only about a third of children ages five to 11 have received one or more doses.
In a July Kaiser Family Foundation (KFF) survey of parents, more than four in 10 with children ages six months to four years said they would "definitely not" vaccinate their children against COVID. Others said they will only do so if the school or daycare requires it or they want to wait and see how the vaccine works. Of parents of children in this age group, nearly two-thirds of Republicans and unvaccinated said they would not vaccinate their child. But even among parents who got vaccinated, more than a quarter said they wouldn't make the same choice for their little ones.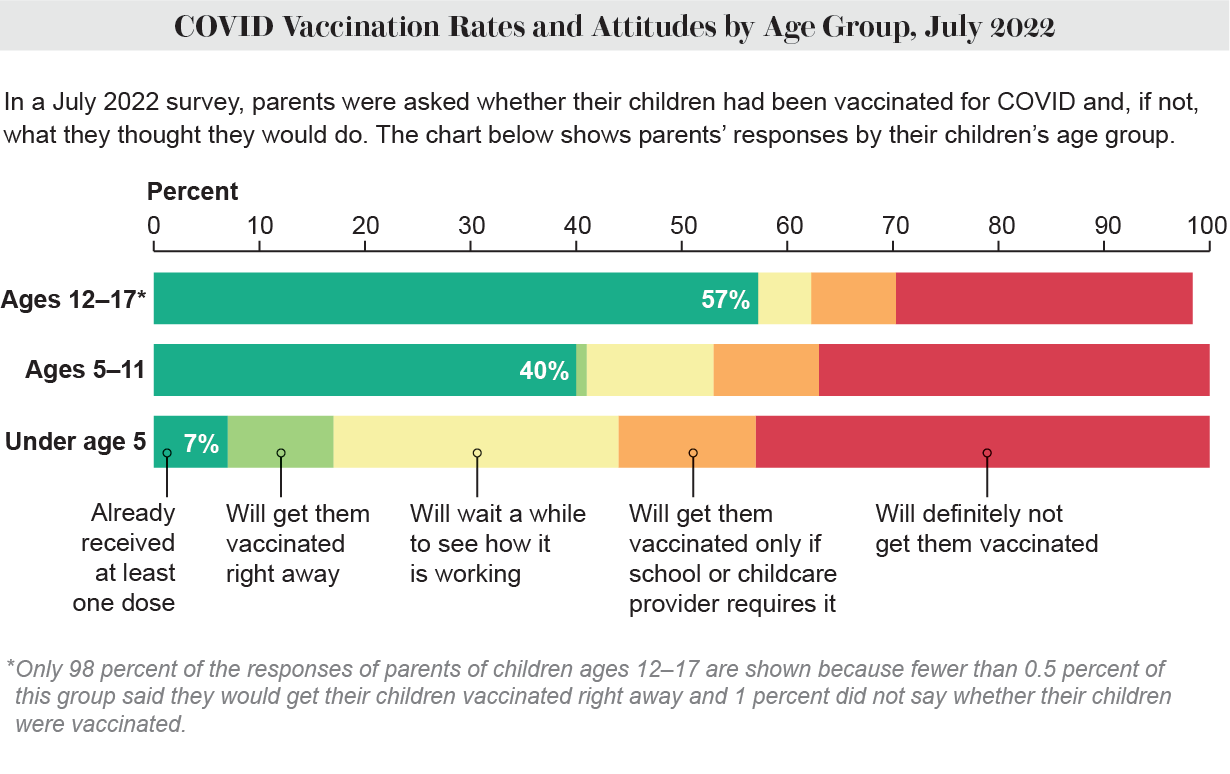 Although children are at lower risk of severe COVID than adults, the risk is not zero. By the end of August, more than 1,400 children in the US had died from COVID, including more than 500 under the age of five. Studies suggest that one in 3,000 to 4,000 children has been hospitalized with multisystem inflammatory syndrome in children (MIS-C), a condition in which multiple organs can become inflamed. Others have developed COVID for a long time.
Reasons not to vaccinate
In the KFF survey, parents gave a wide range of reasons for not vaccinating their young children. Some worried that the vaccines are too new and that not enough testing and research has been done. The Pfizer and Moderna vaccines have been tested in thousands of children without causing serious adverse effects. But very rare complications can occasionally appear only after millions of people have been vaccinated. For example, myocarditis, an inflammation of the heart muscle, only appeared among some adolescents and young adults after vaccines became widely available. Most of these cases resolved on their own.
Other parents expressed concern about the short-term side effects of the vaccine, which could mean taking time off work to care for their child. In clinical trials, side effects in children under five years of age were similar to those seen in older children and adults. These included pain and redness at the injection site, headache, fatigue, and fever. With the exception of fever, most were milder than those seen in older children.
But a significant proportion of parents of children under five in the KFF survey — more than 10 percent — said they felt their child didn't need the vaccine or weren't as concerned about COVID itself. Many children have already been infected with COVID, and most of them have had relatively mild cases and recovered on their own. When vaccines became available for younger children, they were less effective at preventing infection, so the benefits of vaccination were harder to see. "Almost everyone knows someone who has contracted COVID despite being vaccinated," says survey co-author Liz Hamel, vice president and director of public opinion and survey research at KFF. "The promise of what the vaccine will do for you is different now."
Hamel and her colleagues asked parents whether getting the vaccine or becoming infected would pose a greater risk to their children's health. Parents of children who had already had COVID were much more likely to say the vaccine would be a higher risk.
Michelle Fox is the mother of a two-year-old boy in Hochdale, Massachusetts. Her son contracted COVID in May, just before her age group was eligible for a COVID vaccine, and she and her husband have not yet vaccinated him. "I think if he hadn't had COVID, we would have vaccinated him as soon as possible," she says. But she hasn't been in much of a rush, partly because her son already has some immunity to SARS-CoV-2, the virus that causes COVID, and partly because her husband has some reservations. He's British, and Fox says he's a bit worried that the UK hasn't yet approved the vaccine for use in young children. "Usually we are people who definitely trust what the doctors say," she says. But Fox had a complicated pregnancy that resulted in her child being born prematurely, so her and her husband's calculation of the risk of rare but serious outcomes has changed somewhat, she says. However, she adds, as the weather gets colder and her son spends more time indoors, where the risk of COVID is higher, that could influence her decision to vaccinate him or not.
A subset of parents have been extremely anxious to vaccinate their young children against COVID. Allison Moy, a microbiologist and mother from Pittsburgh, Pennsylvania, vaccinated her nearly 2-year-old son as soon as she was eligible. She has received two of three doses of the Pfizer vaccine. As a scientist with a background in microbiology, Moy says she was confident in the science behind mRNA vaccines and had no safety concerns. For her, vaccinating her child was not just about protecting him, but also about protecting those around him. "My parents are getting older; my husband's parents are getting old," she says. "It was more about doing our part to protect the vulnerable."
The KFF survey also found that vaccination rates among young children were divided across political parties: Parents who identified as Republican were less likely to have vaccinated their children or themselves, compared to parents who identified as Democrats. However, even among Democrats and vaccinated parents, a sizeable proportion had not vaccinated their children.
Racial and ethnic demographics also played a role. More than four in 10 black parents of children under the age of five cited barriers to access, such as having to take time off work to care for a child with side effects, compared with less than a third of Hispanic parents and less than a fifth part of the white parents. . More than four in 10 Hispanic parents of those children said they were worried they wouldn't be able to get their child vaccinated at a trusted place, compared with more than a quarter of black parents and about a sixth of white parents. And both Hispanic and black parents were more likely than white parents to say they were concerned about having to pay out of pocket for vaccines, which are available for free in the US regardless of insurance status. "People are not used to getting free things in health care in this country," says Hamel.
Other research supports the findings of the KFF survey. Jessica Calarco, an associate professor of sociology at Indiana University Bloomington, and her colleagues surveyed Indiana parents about their vaccination decisions. In data that has not yet been released, they found that, from relatively early in the pandemic, parents were not as concerned about their children contracting COVID. Parents told researchers that messages in the media suggested that children, especially white children with no pre-existing conditions, had a very low chance of becoming seriously ill or dying, Calarco says.
"Parents really latched onto those early messages, in part because it allowed them to feel comfortable sending kids back to school and daycare in person," says Calarco. As the pandemic progressed, an increasing percentage of parents told Calarco and his colleagues that they were consuming less news about COVID. According to an as yet unpublished national survey also conducted by Calarco and his colleagues, "the more parents perceive COVID itself as less of a threat to children, the [the more] they are significantly less likely to have chosen to vaccinate their children," she says.
In Calarco's Indiana and national surveys, there was a strong correlation between parents getting vaccinated and their children getting vaccinated. But there were a number of parents who had only gotten vaccinated because their workplaces required it. National gender data suggests that women are more likely to be vaccinated than men, Calarco says, but her surveys of parents found that stay-at-home mothers with young children had much lower vaccination rates, Calarco says. Parents told Calarco and her colleagues that they were more likely to vaccinate their older children, who went to school and extracurricular activities, than their younger children, who stayed home. Many parents also believed that children were less likely to spread COVID to others, as early studies showed. But more recent studies suggest that children can, and do, spread the disease to others in their household.
Increase vaccination through reliable sources
The fact that many parents feel less urgency to vaccinate their children may be due to how vaccines have been tested and implemented, says Sallie Permar, chair of Pediatrics at Weill Cornell Medicine and chief pediatrician at NewYork-Presbyterian Komansky Children's Hospital. . "The youngest children were the ones who underwent the last test" of vaccines, says Permar. "And I think the message parents got during that process is that it wasn't that important."
KFF survey data suggests pediatricians are the most trusted source of information about the COVID vaccine for children, yet 70 percent of parents of children under five said they had not yet spoken with the provider your child's healthcare provider about the COVID vaccine. That could change when they take their kids in for their annual checkups.
Permar sees a crucial role for pediatricians in communicating to parents that COVID vaccines are safe and recommended for children. "I think pediatricians do need to get this message out to parents," she says, because "the data shows that parents really trust that source of information." But staffing shortages and a lack of resources have made it hard to get the word out. Most healthy children only see their pediatrician once a year. "We really have to go beyond the pediatrician being the sole provider and messenger for these parents," says Permar.
In the meantime, the FDA has licensed updated booster vaccines that target the Omicron subvariants of SARS-CoV-2. But the Pfizer booster is only authorized for children over 12 years of age, and the Moderna booster is only authorized for those over 18 years of age. So younger kids will have to wait a bit longer for these updated shots.
"I'm just concerned that we're going down the same path of showing parents that this is a low priority, that kids are a low priority," says Permar. "I think the FDA and other legislators should think about, 'What are the requirements for approval of vaccines in young children?' so that all parents and their pediatricians and providers can walk in with open eyes this fall as to what we should be recommending for children."