El Paso County -The Colorado Department of Transportation and contractor SEMA Construction will temporarily close both entrance ramps on South Academy Boulevard to northbound I-25 and southbound I-25 for paving operations.
traffic impacts
night work
From September 25 to 29, from 8 pm to 5:30 am: total closure of ramps
Entrance ramp to I-25 southbound from North Academy Boulevard
Detour route (see map)

To access I-25 Southbound from N. Academy Boulevard, motorists should take North Academy Boulevard, turn right onto Kelly Johnson Boulevard
Turn left onto North Academy Boulevard
Stay in the right lane to access I-25 Southbound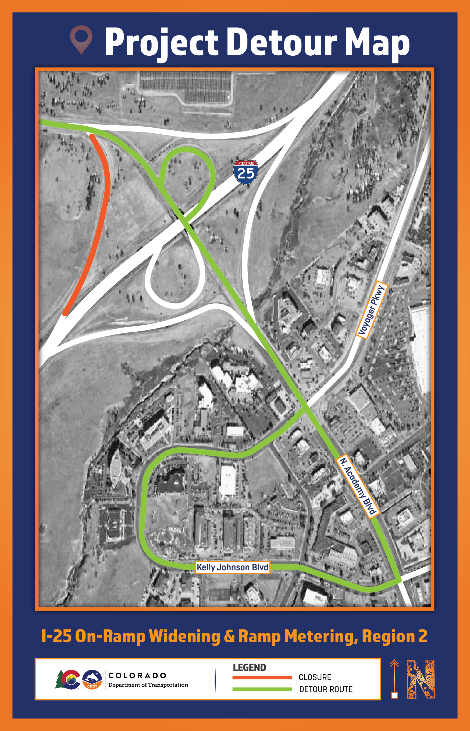 Northbound Academy Boulevard entrance ramp from I-25
Detour route (see map)




To access I-25 northbound from North Academy Boulevard, motorists should turn right onto Voyager Parkway to Briargate Parkway, turn left




Stay in the right lane to access the entrance ramp to I-25 Northbound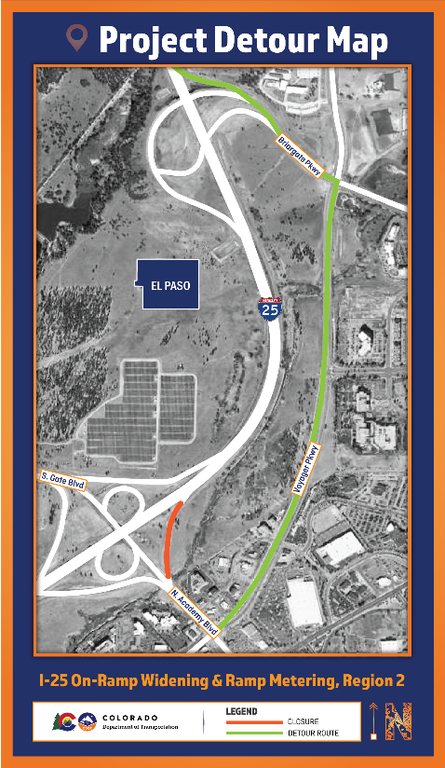 September 26 – 8 p.m. – 5:30 a.m.
Closure of northbound right lane of I-25 for crews to remove barrier.
day job
September 26-29, 7 a.m. – 5:30 p.m.
Crews will work the left shoulders of N. Academy Blvd. heading north and south. the on-ramps and right shoulders of I-25.
There will be an 11′ lane restriction on the ramps.
The speed limit is 40 mph on the ramps.
Project description
The I-25 Ramp Metering Project will widen ramps and install ramp metering along I-25 and the southbound Woodmen Road entrance ramp, Academy Boulevard entrance ramps in northbound and southbound, and the northbound North Gate Road entrance ramp. The duration of the project is expected to be from June to November 2022.
project information
For additional information about this project:
know before you go
Travelers are urged to "know before you go." Gather information on weather forecasts and anticipated travel impacts and current road conditions before you hit the road. CDOT resources include:
Remember: slow for the cone zone
The following tips are to help keep you safe while traveling through construction and maintenance work zones.
Don't speed up in work zones. Obey posted speed limits.
Stay alert! Expect the unexpected.
Watch for the workers. Drive carefully.
Do not change lanes unnecessarily.
Avoid the use of mobile devices such as phones while driving in work zones.
Turn on your headlights so workers and other drivers can see you.
Be especially alert at night while driving in work zones.
Expect delays, especially during peak travel times.
Leave a wide space between you and the car in front.
Anticipate lane changes and merge when directed.
Be patient!
Download the COtrip app!
The new FREE COtrip Planner mobile app was designed to meet the growing trend of information on mobile and tablet devices for the traveling public. The COtrip Planner app provides real-time traffic information throughout the state and works on mobile devices running on the iOS and Android platforms. Visit the google play store (Android devices) or the apple store (iOS devices) to download!