Poetry, art, comedy, cinema, books and masked wrestling. Something for everyone this week in the city of angels!
From February 6-10 in Los Angeles, you'll find Chuck D chatting, Netflix is ​​a joke at Dynasty Typrewriter, Lucha VaVOOM's Pasión de Fuego, a KCRW Open House Dance Party at CAAM, the California Antiquarian Book Fair, screenings of Flux at The Hammer, and much more. Take a look at our full list below, and we hope you make the most of your social hours!
advertisements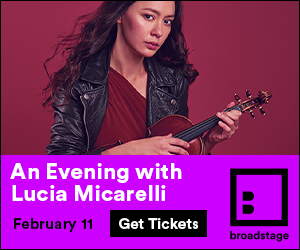 Things to do this week in Los Angeles
Auntie's Sewing Kit's Guide to Mask Making, Radical Care, and Racial Justice -> During the early days of the 2020 COVID-19 shutdown, artist, comedian, activist, and Koreatown Neighborhood Council member Kristina Wong began a mask-making mission to supply personal protective equipment (PPE) that people across the country are urgently needed. Her efforts led to the formation of the Auntie Sewing Squad and now, ahead of the Los Angeles premiere of her new solo work of hers. Kristina Wong, Supreme Sweatshop ManagerWong and her Sewing Squad collaborators share their stories in this Monday Loud Discussion Event, presented by the Los Angeles Library Foundation. It begins at 7 pm in the Central Library's Mark Taper Auditorium. Free to attend. More information here.
bridging the pacific -> Now on view at the Torrance Art Museum, bridging the pacific brings together more than a dozen artists from SoCal's Japanese American community for a group art show that demonstrates the variety of artistic talents, traditions, and practices of the Japanese diaspora. TAM is free to visit Tuesday to Saturday from 11 am to 5 pm More information here.
A conversation with Chuck D. -> GRAMMY-nominated Lifetime Achievement Award winner Chuck D is coming to the GRAMMY Museum this Tuesday to chat about his life, his career and his new fine art book, living strong, which features more than 250 paintings, sketches and drawings by the artists. Tickets for the event are $50. Starts at 7 pm More information here.
Netflix Is A Joke Radio Presents: Are You Still Listening? -> Netflix's free monthly stand-up series returns to Dynasty Typewriter this Wednesday with host Chaunté Wayans and a lineup that includes Akeem Woods, Andrea Jin, Brittany Schmitt, Caleb Hearon, Chelcye Perry and Saul Trujillo. There is no cost to RSVP for admission, but seating is on a first-come, first-served basis and does not guarantee entry. Doors open at 6:30 pm and the show starts an hour later. More information here.
VaVOOM Fighting Fire Passion -> fire passion is Lucha VaVOOM's two-night engagement at The Mayan Theater includes shows this Wednesday and Thursday. Expect LVV's signature extravaganza of masked wrestling, impressive acrobats and sexy burlesque. General admission tickets start at $45. More information here.
Eataly's Carnivale d'Amore Party -> On Thursday, Enjoy an all-inclusive evening of Carnevale-themed snacks, sips and festivities. In celebration of Mardi Gras and amore, guests will have full access to sweet and savory stations, as well as more than 20 wines, from sparkling, red to white. Tickets are $70 per person. More information here.
Pan African Film and Art Festival -> From February 9-20, The Pan African Film Festival (PAFF) returns to Los Angeles for 12 days of showcasing more than 200 new films and the talented artists who created them. Festival passes start at $65. More information here.
flow in the hammer -> The Hammer Museum Flow The screening series kicks off its 2023 slate this Thursday with an eclectic night of international short films, performance films and music videos, plus appearances by the filmmakers themselves. Stick around after the screenings for an after party on the patio with beats from dublab's DJ Frosty. Free to attend. Starts at 7:30 pm More information here.
What is the value of art? -> Ahead of next week's Frieze Los Angeles art fair, Zócalo Public Square hosts a discussion this Thursday where experts will question the value we place on art, be it price, cultural impact, or the personal meaning behind a work. Included on the panel are activist Andrea Bowers; the artist, cultural organizer and co-founder of Meztli Projects Joel García; and Director and Executive Director of the Lucas Museum of Narrative Art Sandra Jackson-Dumont. The event is free to attend. It begins at 7 pm, followed by a post-talk reception. More information here.
KCRW Open House Dance Party at CAAM -> This Friday, KCRW joins the California African American Museum for an evening of danceable beats curated by KCRW DJs Francesca Harding and Tyler Boudreaux. Expect a beer garden, food trucks, and plenty of time to explore CAAM's lobby exhibits. It works from 7 to 10 pm Free admission. Learn more here.
The Poetry Brothel: Lust and Longing in Los Angeles -> If the term "orgy of words" gets your blood pumping, head over to El Cid east in Friday for an all-out poetry blitz hosted by Madam Tallula. Check out individual private poetry readings, Tarot readings, poetic memories, live typewriter poetry, and some dance and musical performances. Tickets are $50. Starts at 6:30 pm More information here.
Screening of Bloody Valentines at the Million Dollar Theater -> Starting this Friday, Street Food Cinema celebrates Valentine's Day with three excellent movie screenings over three nights at the historic Million Dollar Theater in DTLA. Scheduled movies include queen of the damned, Bram Stoker's Dracula and Jennifer's body. Advanced tickets are $28 for general admission and $31 for reserved sections. More information here.
advertisements
CASETiFY x ROW DTLA Love Struck Gallery -> This FridayGrab a partner and head over to ROW DTLA for Creatives to Fall For: A Lovestruck Gallery. CASETiFY's free event invites the public to experience a thriving gallery of art created by local floral designers who use CASETiFY's clear case collection as their muse. In addition, the pop-up will offer guests complimentary latte art, access to Valentine's Day boxes for friends and couples, as well as a first look at the brand's new collection featuring New York Times best-selling poet Atticus. More information here.
Conga Patria Son Jarocho Collective in LA Plaza -> LA Plaza de Cultura y Artes begins its 2023 season of free events on Friday with a concert by the Conga Patria Son Jarocho Collective, nominated for a Grammy. Starts at 7 pm Free to attend. More information here.
Culver City Arts District Valentine's Night Market -> The monthly night market at Culver City's Ivy Station gets a Valentine's Day twist this Friday, offering night owls a variety of local vendors, food trucks, drinks, games and music. Free to attend. It works from 5 to 10 pm More information here.
California Antique Book Fair -> Attention book lovers! the 55he The California International Antique Book Fair appears at the Pasadena Convention Center East friday to sunday, bringing together thousands of book lovers, rare book dealers and academics. Tickets are $10-$15 for one-day admission, and there is also free admission for librarians, curators, and related non-profit cultural institution workers who register in advance at this link. For all other guests, get tickets and see more information here.
dine and drink
(Selections by Christina Champlin)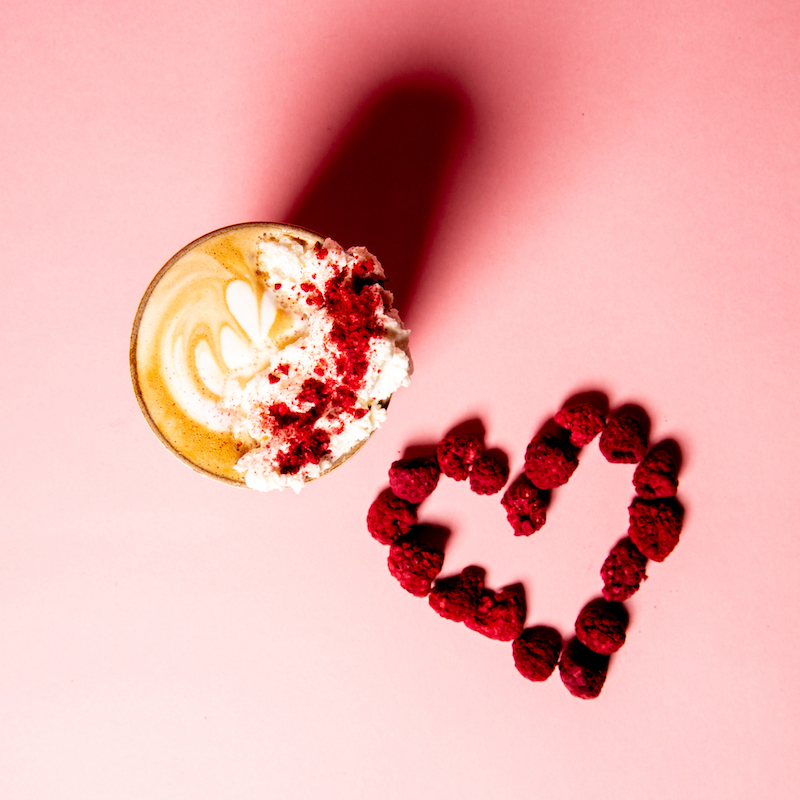 Valentine's Lattes at Verve Coffee -> On Tuesday, February 7th, all Verve locations will be adding a limited-time Raspberry Mocha Latte to the menu. Made with chocolate, fresh raspberries and Verve's signature Streetlevel espresso, the drink is topped with crushed dried raspberries for an extra dose of colour. The drink will be available until February 19.
Valentine's Day Donut Flavors at Holey Grail Donuts -> The makers of the taro donut will be releasing four donuts for Valentine's Day on Thursday, February 9. Available at all Holey Grail locations through February 15, donut flavors include: Love Potion, made with local lavender, lemon, and black pepper; Miso Honey with miso, honey and Hawaiian black lava sea salt; Strawberry Fields with local strawberry and matcha swirl; and a Theobroma rolled in cocoa nib and vanilla sugar.
advertisements
Wine tastings at sunset with Vinovore -> This Thursday, join Vinovore at Silver Lake Pool & Inn for sunset wine tastings. Tickets are $15 per person and include a wine tasting by winemakers, Tara and Mireia of Camins2Dreams. It works from 5 to 9 pm More information here.
McConnell's Valentine's Day Ice Cream Cupcakes -> From February 10-14, McConnell's Ice Cream will feature a Valentine's Day Ice Cream Cupcake made with a homemade chocolate ganache cupcake base filled with your choice of ice cream topped with pink whipped cream and sprinkles.
---
Want to get the best things to do in Los Angeles delivered straight to your inbox? Join the 60,000+ Angelenos who sign up for our twice-weekly email newsletter!
By signing up, you agree to our terms of use and privacy policy and agree to receive emails from We Like LA about partner news, events, offers and promotions.
advertisements