A cruise to Southeast Alaska is a bucket list trip for millions, and for good reason. The destination is visually stunning and environmentally pristine.
Its icy blue waters and pure white glaciers and icebergs are seen against the backdrop of the verdant mountain coastal landscape, where cruise ships can spot wildlife such as grizzly bears making their way up the side of a mountain. But the Alaska cruise season is short, from mid-April to mid-September, with the peak tourist season in July and August.
It is a cold fate. Even in the height of summer, nighttime temperatures often call for a thick jacket or sweater, and those peak season months also tend to be rainy. In the capital city of Juneau, for example, a popular cruise port, there are an average of 19 rainy days in both July and August. The number drops a bit in June, and that's one of the reasons why June is the best month to cruise Alaska. In fact, a cruise is one of the best ways to visit the final frontier state.
Related: 10 Best Alaska Air Tours That Are Worth It
Choose June for your Alaska Cruise
Travelers know that the weather can make or break a vacation, and in Alaska, it can mean the difference between enjoying the great outdoors or being cooped up inside a cruise ship.
The early and late seasons, from mid-April to May and then the first half of September, will offer cheaper cruise fares, but the temperatures will be quite cold. In April, for example, the high temperature will reach only about 43 degrees Fahrenheit. In May and September, they will not exceed 55 degrees. And that's during the day.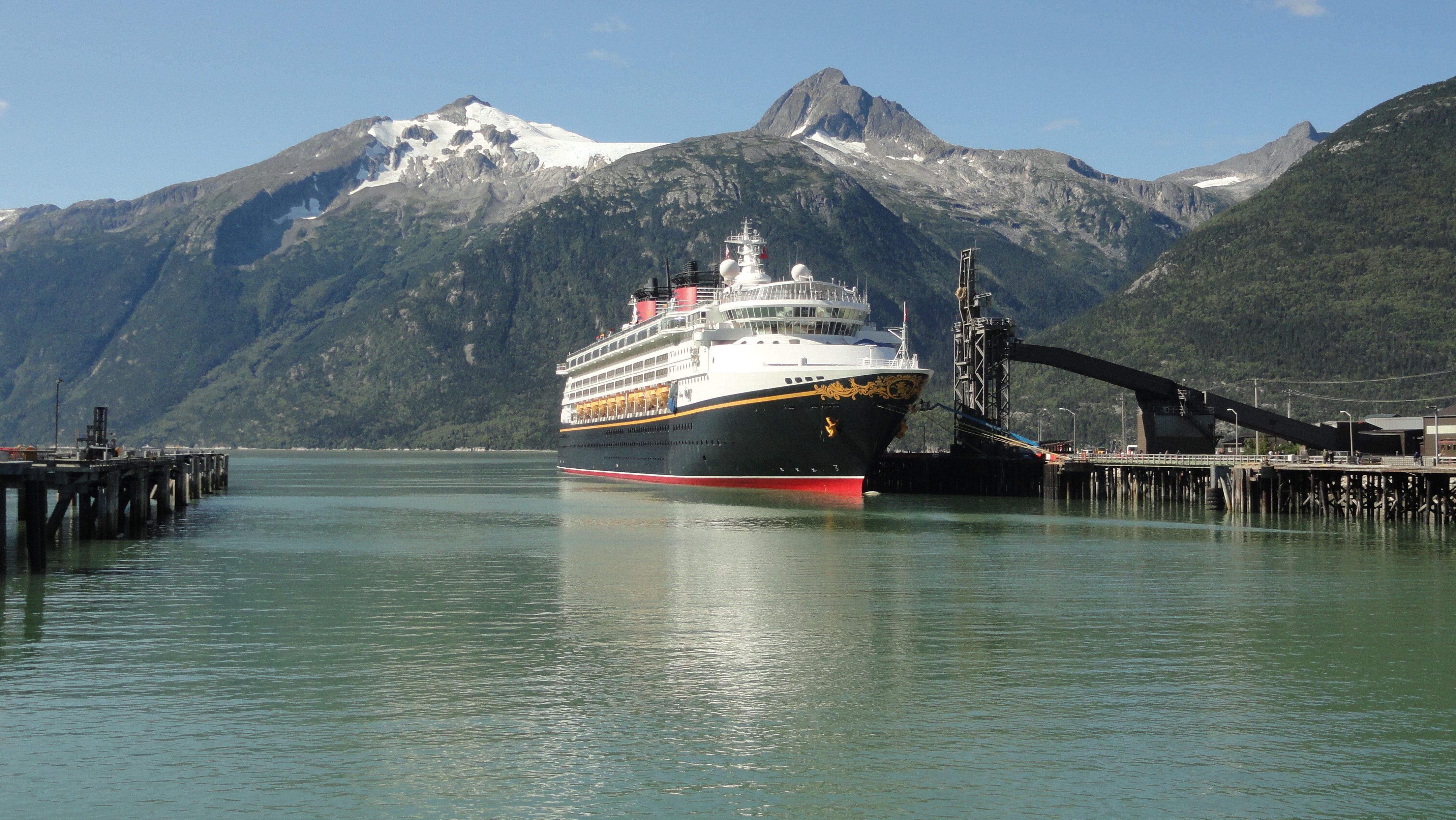 A Cunard cruise ship docks at an Alaskan port.
But come June, daytime temperatures will hit the mid-60s, making traveling and exploring more comfortable. Also, in June it is very light, 18 to 20 hours of daylight, which gives more time for sightseeing on land and seeing the coast and glaciers from the ship.
Wildlife is also abundant in June, and cruises can expect to see beluga whales, perhaps bears with cubs, possibly polar bears depending on the itinerary, plus seals and many types of seabirds.
A brown bear and her cubs at the water's edge along the Alaskan coast.
By early June, all attractions will have fully reopened for the season, but tourist demand will not be at peak levels, mainly because schools are still in session.
Top Alaska Cruise Destinations
Cruise ships sailing in Alaska tend to visit the same dozen destinations along the picturesque coastline, so it's common for multiple cruises to call at the same ports on the same days. Similarly, cruise ships will often see other cruise ships sailing in the distance.
Some places, such as Hubbard Glacier and Glacier Bay National Park, do not have docking facilities. In these places, the "scenic cruise" is the port call, as the ships keep a safe distance from the glaciers and icebergs, but get close enough to thrill passengers. Here are some of the key Alaska destinations frequented by cruise ships:
A picturesque waterfall washes up on the Alaskan coast.
Ketchikan is a small town on the Inside Passage, a 500-mile coastal route through islands and fjords off the Alaskan coast. It is a small town with a lot of character, tied mainly to its Native American roots. The city is home to a large collection of totem poles, which visitors will be able to see around the city and at the Totem Heritage Center. With wildlife that includes black bears, bald eagles, and wolves, Ketchikan is one of the must-see places in Alaska for every traveler.
In Glacier Bay National Park, a must-see destination, most cruise ships will offer a full-day scenic cruise where guests can view calved glaciers and icebergs. On the remote coast, it's not uncommon to see brown bears and mountain goats, while marine life will include sea otters, sea lions and harbor seals. Sea bird watching is also abundant within the park. National Park Service rangers often board cruise ships to provide information and give presentations on glaciers and wildlife.
The glacial waters in Alaska are an icy blue color.
Juneau is the capital of Alaska and has many attractions for visitors, including hiking trails, museum tours, shopping, and more. It is also close to the Mendenhall Glacier, located about 12 miles from the city. The glacier is about 13 miles long and connects to the sprawling Juneau Icefield, said to be a remnant from the last ice age.
Hubbard Glacier is another scenic cruising area, about 200 miles west of Juneau. The glacier is about six miles wide and about 400 feet high, and it often crumbles. Underwater ice may prevent cruise ships from approaching the glacier, but most can get within half a mile of it. Cruise ships will also see huge icebergs in this area.
Summer travel illustrates price differences
Several major cruise lines visit Alaska from the late spring to early fall season from various West Coast or Alaskan ports. Many are seven-day voyages, but some lines offer longer voyages that travel further and call at more destinations. Prices will normally be higher in July and August. Here are some examples. (Please note that cruise fares change frequently as the day of departure approaches.)
Princess Cruises will operate a seven-day roundtrip Inside Passage cruise (with Glacier Bay National Park) from Seattle on June 3. The navigation will call at Juneau, Skagway, Glacier Bay and Ketchikan, Alaska, and Victoria, Canada.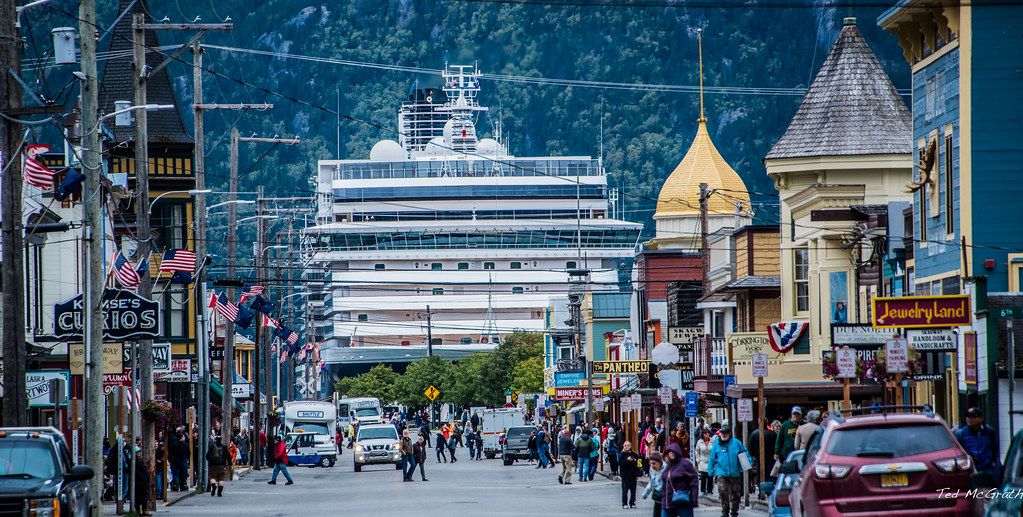 A cruise ship makes a stop in Skagway, Alaska.
Celebrity Cruises' Celebrity Millennium will depart June 16 on a seven-day voyage from Seward, Alaska to Vancouver, British Columbia. The ship, carrying 2,138 guests, will call at Hubbard Glacier, Juneau, Skagway, Icy Strait Point and Ketchikan, Alaska, then navigate the Inside Passage before arriving in Vancouver. Inside cabin rates are $430 per person.
Royal Caribbean's Radiance of the Seas will sail a seven-night voyage from Seward, Alaska, to Vancouver, departing July 7. Port calls will include Hubbard Glacier, Juneau, Skagway, Haines, Icy Strait Point and Ketchikan, as well as sailing the Inside Passage. Inside stateroom fares are $1,199 per person on the ship with capacity for 2,500 guests.
Related: See Alaska in a whole new way with these new Alaska cruises
Holland America Line's 2,104-passenger Eurodam offers a seven-day roundtrip from Seattle on August 5. Inside cabin fare is $900 per person, and the ship will call in Juneau, Glacier Bay, Icy Strait Point, Sitka and Ketchikan, Alaska.
Also in August, Carnival Cruise Line's Carnival Miracle, a ship with capacity for 2,124 guests, will sail on a 10-day round-trip Alaska cruise from San Francisco. Departing on August 16, the ship will visit Juneau, Skagway, Tracy Arm Fjord, Ketchikan, Alaska and Prince Rupert, British Columbia. The cost of the inside cabin is $884 per person.