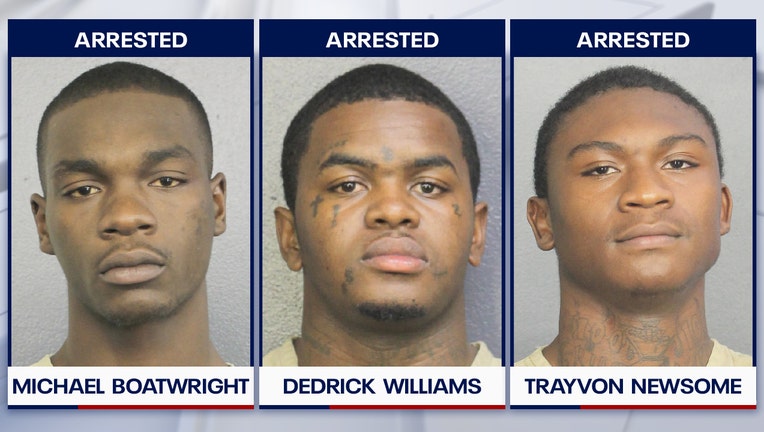 FORT LAUDERDALE, Fla. – More than four years after gunmen killed rising rap star XXXTentacion during a robbery outside a motorcycle shop in South Florida, three suspects are now scheduled to go to trial.
Shooting suspect Michael Boatwright, 28, and his accused accomplices, Dedrick Williams, 26, and Trayvon Newsome, 24, could face life in prison if convicted of first-degree murder. They are also charged with armed robbery. They have pleaded not guilty.
A fourth man, Robert Allen, 26, pleaded guilty to second-degree murder last year and is expected to testify against the other three. Jury selection is scheduled to begin on January 18 and is expected to last three weeks. The trial is expected to last until March.
In pre-trial hearings, lawyers for the defendants suggested that there were other people who had financial and personal motives for killing the singer, including members of his family and other rappers.
"It has been more than four long years of preparation. We are excited to take this first step in bringing Dedrick home," said Mauricio Padilla, Williams' attorney. Attorneys for Boatwright and Newsome did not respond to emails seeking comment. The COVID-19 pandemic and legal disputes delayed the start of the trial.
RELATED: XXXTentacion Murder: Rappers Drake, Deceased Migos Member Listed As Potential Witnesses In Upcoming Trial
Circuit Judge Michael Usan last week rejected an attempt by Boatwright's attorney, Joseph Kimok, to find him mentally incompetent to stand trial. He also denied a motion by the defendants' attorneys to try the three separately.
They argued that evidence presented against a single defendant would be prejudicial to the other two. They also argued that each defense attorney could try to establish the innocence of his client or mitigate his guilt by pointing fingers at the other two suspects; they argued that would unfairly prejudice the jury against the trio. Prosecutor Pascale Achille told Usan that any evidence presented would belong to all three.
Usan ruled that the defense lawyers' arguments could be applied in all multi-defendant trials, but in this case they do not outweigh the need for "judicial economy" to not hold three trials unless absolutely necessary.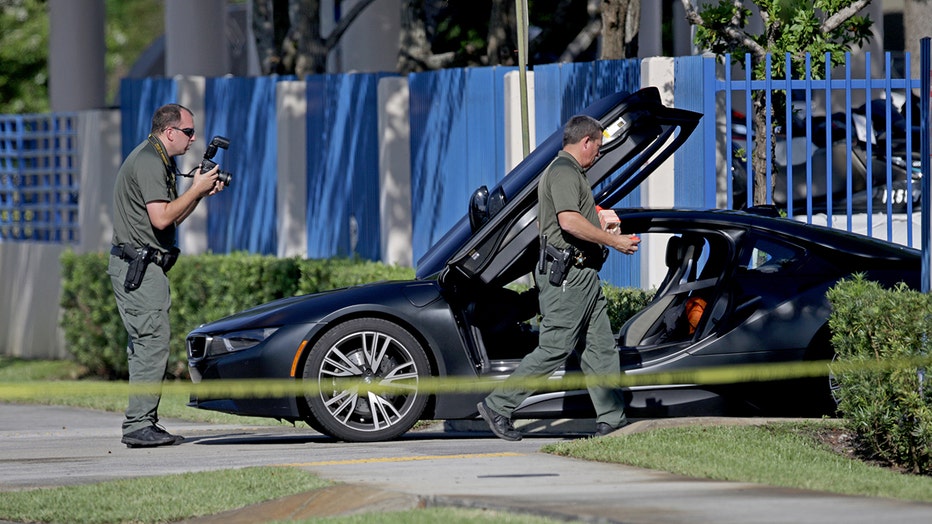 Crime scene investigators photograph the BMW where rapper XXXTentacion was shot and killed outside of Riva Motorsports in Deerfield Beach, Fla., on June 18, 2018. (John McCall/South Florida Sun Sentinel/Tribune News Service via Getty Images )
XXXTentacion. Real name Jahseh Onfroy, had just left Riva Motorsports in Pompano Beach, just north of Fort Lauderdale, on June 18, 2018, with a friend when his BMW was blocked by an SUV that swerved ahead. Two masked gunmen got out, confronted XXXTentacion in the driver's window, and one shot him. They then grabbed a Louis Vuitton bag containing $50,000 in cash that the singer had just withdrawn from the bank, got back in the van and sped away.
FIRST REPORT: Rapper XXXTentacion shot dead in Florida
XXXTentacion, 20, died at the hospital soon after. She pronounced her name "Ex ex ex ten-ta-see-YAWN" and was a platinum-selling rising star who tackled issues of prejudice and depression in her songs. He also received criticism for his misbehavior and multiple arrests, including charges that he severely beat and abused his girlfriend.
Investigators say surveillance video from the store and other evidence link the three defendants and Allen to the murder.
They say that the video shows the SUV arriving at the motorcycle shop just as XXXTentacion and his friend entered. Williams and Allen followed them inside, and Williams made a small purchase. They then returned to the van. About 10 minutes later, XXXTentacion and his friend tried to leave, but the van blocked them. Prosecutors say Boatwright and Newsome were the gunmen who confronted the rapper, and Boatwright fired the fatal shots.
Investigators say Boatwright's fingerprints were found on the driver's door of the rapper's BMW. Williams was identified by a Riva Motorsports employee, who said he was a regular customer. Williams told investigators that he did not know the other three were planning a robbery.
SINCE 2017: Police respond to crowd in Ybor City after XXXTentacion show was canceled at the last minute
A social media search for Williams turned up photos of him with Allen, who was later identified from surveillance video. Williams' girlfriend told investigators that he told her the other gunman was Newsome.
They say cell phone data also links the defendants to the scene.
Also found on their phones were photos of Boatwright and Newsome holding large stacks of $100 bills, dated and time stamped the night of the murder, prosecutors say.