The Space Gears PvP Showdown trailer features combat footage from the trial version.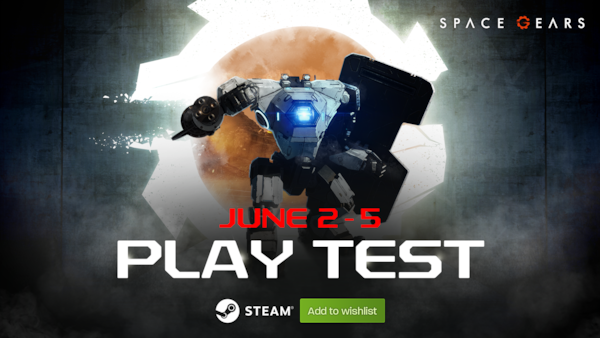 Seoul, South Korea – May 26, 2023 – Pentapeak Studios, a subsidiary of 2bytes Corporation, announced that it will begin the first global Steam test of its Space Gears game on June 2 at 16:00 Korea Standard Time (KST).
The playtest will last a total of four days, from June 2 to June 5. There are no restrictions on the number of participants or entry requirements. Anyone who wishes to play 'Space Gears' in advance can participate.
Set in a captivating 22nd century sci-fi universe, Space Gears takes place against the backdrop of a war that broke out during the terraforming of Mars. Players assume the roles of pioneers and commanders, mining resources, researching terraforming technologies, assembling robots, and engaging in PvE and PvP battles as they explore and transform Mars.
During this playtest, players will be able to directly control mechanical units and experience PvE and PvP gameplay. In particular, the PvP map, tentatively named Plains Showdown, is expected to stage intense battles as users compete fiercely for control of strategic strongholds.
Community events will also take place during the trial period. By completing certain tasks, such as inviting friends to the Space Gears Discord server and following Space Gears on social media, users will have a chance to earn Discord Nitro subscriptions. In addition, combat highlights captured in the test version will be available for viewing on the official Space Gears YouTube channel.
Space Gears Executive Producer Ham Youngchul mentioned, "It's quite stressful to finally release our first game after 14 months of development. Space Gears is our attempt to lower the barrier to entry of classic RTS games. We want to to create a game that will be enjoyed by as many players as possible," he then added, "The main goal of this test is to gauge interest in the game's PvP battles. We hope to collect feedback from players around the world and do our best to deliver the highest quality game when it comes time to launch."
Space Gears is scheduled to run its global playtest from June 2-5, participate in Steam Next Fest in June, and continue with global Early Access via Steam later this year. The game is being developed to target global gamers who enjoy RTS, strategy, war games, and sci-fi.
Follow Space Gears on Steam, Twitter, Youtube, Discord, forks Website
About Space Gears
Space Gears is an exciting sci-fi strategy game created by Pentapeak Studios, a subsidiary of 2bytes Corp. Set on Mars, players take on the role of pioneers, building bases and commanding armies of powerful robots. The game encourages players to form alliances and compete against each other for control of limited resources. With its fast-paced, fluid PvE and PvP battles, Space Gears does away with traditional build orders, resource management, and base expansions, concentrating instead on real-time gameplay. This approach allows players to master timely and coordinated attacks against their opponents, making every battle an exciting experience.
space gears press kit
About 2bytes Corporation
2bytes is a global gaming services startup founded by experienced industry professionals with a track record of successfully launching PC and mobile games around the world. The company has become a trusted partner for game developers and publishers, offering a variety of services such as localization, QA, game operations, community management, and voice overs. With a growing reputation for excellence, 2bytes is particularly known for its outstanding localization work in the Black Desert franchise. With more than 100 partners, including big names like NCsoft and Microsoft, 2bytes provides complete services for more than 140 titles. 2bytes recently established Pentapeak Studios, a subsidiary responsible for developing exciting new games like Space Gears and Stellar Tales. Additionally, 2bytes is exploring the cutting-edge world of blockchain technology through a collaboration with cross-chain platform NFT HAVAH and blockchain technology company Parameter. As of March 2023, the company has expanded to a workforce of 186 employees.
2 byte company press kit
About Pentapeak Studios
Pentapeak Studios was founded by 2bytes to develop new in-house titles. The studio is run by industry veterans who built their careers working at South Korean game developers including Nexon, NCsoft, and Wemade, among others. Pentapeak Studios currently has two titles in development: star tales, a meta match-3 puzzle game space Gears, a sci-fi strategy game set on Mars.
Press Contact
For press related inquiries, please contact Robert Chun | [email protected] |