SAN DIEGO — Bathers along a California state beach may have done a double take when they stepped onto the sand recently and saw pink waves rolling onto the shoreline.
The unusual pink hue at Torrey Pines State Beach and Nature Preserve was not an art installation gone wrong, but an environmentally safe dye implemented by a team of researchers from UC San Diego's Scripps Institution of Oceanography and the University of Washington.
The National Science Foundation-funded study aims to learn how freshwater columns from estuaries interact with the ocean environment when they collide, specifically with breaking waves, according to a news release.
"The results of this study will provide crucial data to quantify the spread of sediments, pollutants, larvae, and other important materials in the nearshore environment," according to Scripps Oceanography.
RELENTLESS PINEAPPLE EXPRESS STORMS DECIMATED THE EARLY POPULATION OF CALIFORNIA ELEPHANT SEAL PUBS
Beginning January 20, the Plumes in Nearshore Conditions, or PiNC, research team released fluorescent pink dyes into the estuary and surrounding shoreline at Los Peñasquitos Lagoon within the state beach. The dye helps track the processes when the plumes meet the swell.
To monitor the interactions of the freshwater columns, the researchers used drones to survey from above and observed the pink water from the ground and in the water on jet skis for about 24 hours. The team also uses sensors on the seabed and moorings to measure ocean currents and wave heights and collect other data.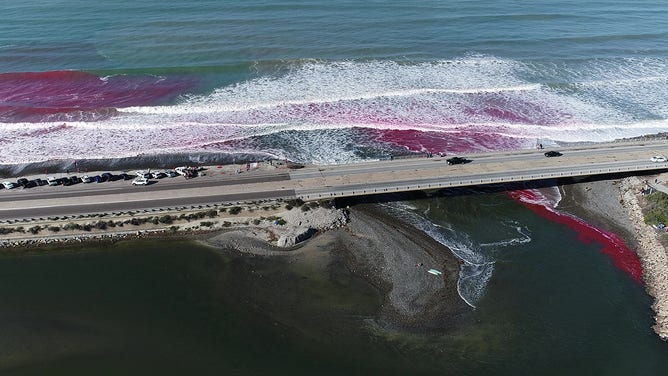 A new drone system is observing the plumes with a camera "that has almost 100 times more ability to distinguish the visible light spectrum than our phone's camera," said Alex Simpson, a member of the research team and a Scripps postdoctoral fellow.
While the pink tides were in the name of science, the views above were also beautiful.
The researchers chose Los Peñasquitos Lagoon because other studies have focused on large-scale freshwater plumes. The lagoon provides an excellent example of a small river plume to study.
HOW TO SEE ZORRO TIME ON TV
"Los Peñasquitos Lagoon is a very dynamic system, with different elements changing every day, often even over the course of a day," Simpson said. "I look forward to seeing how the balance of physical forces—ocean waves competing against river flow—determine the fate of estuary water as it enters the coastal ocean on the days we conduct our field experiment."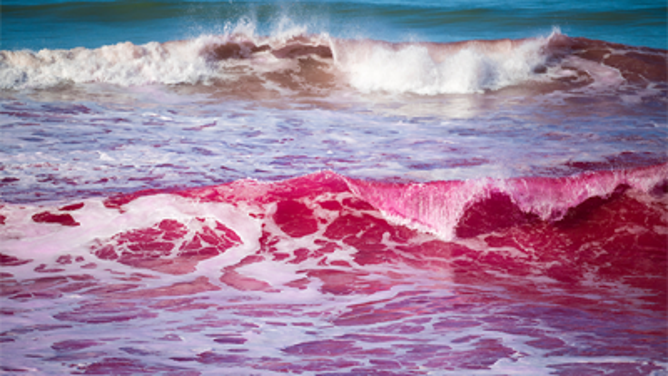 Although the dye is non-toxic, bathers have been asked to use other parts north or south of the estuary on release dates due to active research.
WHY ATMOSPHERIC RIVERS COULD BE MORE FREQUENT AS THE WORLD MOVES OUT OF LA NIÑA
This is not the first time that science has been tickled pink. A 2015 experiment conducted by Scripps Oceanography scientists was used to track the dynamics of pink dye contamination of beaches near the US-Mexico border.
The experiment is scheduled to run through February with two more dye releases.