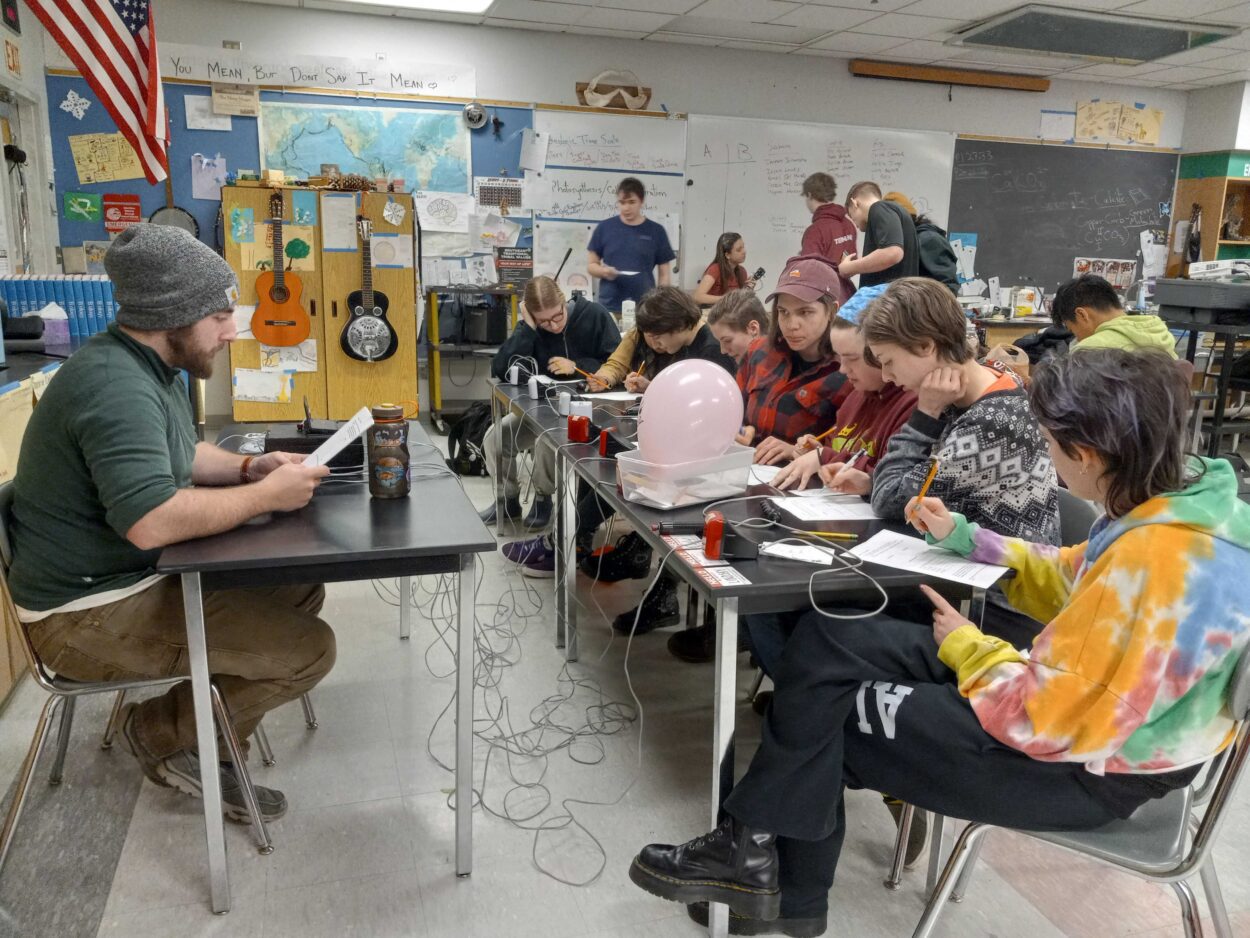 The Ketchikan High School National Ocean Science Bowl team is two months away from traveling to Seward for a state championship. The program has gained such traction in Ketchikan that there are now three teams to accommodate all the students who want to try it out.
"Why does the Intertropical Convergence Zone move back and forth over the equator?"
Keenan Sanderson, the head coach of the National Ocean Sciences Bowl, posed the question during a recent practice. The students used their game show-style buzzers to ensure their answers.
That's part of the "quiz bowl," a game show-style round of timed questions that plays a big part in the state's National Ocean Sciences Bowl competition in Seward. That's where Ketchikan students will go this spring to try to take home a state degree in marine science and oceanography program.
In preparation, students have been hard at work on practice competitions and putting the finishing touches on a 15-page research paper. Your performance on paper and quizzes will determine your ranking among other schools in Alaska.
The program has grown rapidly in recent years. In 2020, there were only six students. Now, there are about a dozen, enough to field three official Ketchikan teams. The senior-led sabertooth salmon is named after a now-extinct species of salmon that used to swim in the waters of the Pacific Northwest with large, protruding teeth. They could weigh up to a ton and be nearly seven feet long. The other two teams are named after younger salmon: the Sabertooth Smolts and the Sabretooth Fingerlings.
Keenan Sanderson is the head coach. He explained that the schedule was delayed due to the pandemic, when there weren't as many teams competing across the state, but it's picking up speed again.
"Last year we had about 13, 14 teams competing across the state," he said. "This year's competition will have 11 teams from five different schools: three from Ketchikan, three from Juneau, two from Bartlett High School, two from Dimond High School and one from Seward. It's a relatively small field compared to… like when I was in high school, we had… I had 25 to 28 teams."
This year, the teams are a mix of experienced students and newcomers.
Romel Del Mundo is a member of the salmon team and has been with the program for the past two years. She said that she gives her opportunities that she doesn't have in the classroom.
"I've been in a few other sports and things like that, but the one thing that's unique about this is that I can learn and I like to take information that, like, I wouldn't even know. like at school," she said.
E. Posey, a junior, just joined the team a few weeks ago. Posey said growing up on one of the islands across the water from Ketchikan played a role in his desire to join the team.
"I usually go for geography, like land over ocean, but I grew up on Pennock (island), so the ocean is a really big part of my life," Posey said.
Posey said the program is unique because it is a place where students from different activities come together.
"It's a very wide variety of people," Posey said. "We have people from all other types of sports and people who don't have other club affiliations and the hours are really flexible."
Sampson Oliver is another newcomer. He's a wrestler, and when his teammates joined the show, he decided to give it a try.
"I was just thrown into it," Oliver explained. "And I (was) skeptical at first. Like I don't really know what this is, but after a few practices, it's super fun. I've always been interested in marine biology, and I always love getting out there, fishing and diving, low tides and finding things like that."
Oliver said the long nights of rushing to get his work done on time provided great team bonding experiences.
"But we definitely all work together," he said. "And I finished it in a few days. But it was super fun. We stayed in Kayhi until 10 at night, all working".
Izaak Landis is on the sabertooth salmon team, made up of seniors. His team wrote a research paper on the red king crab in response to a question about the possible benefits or drawbacks of increasing mariculture in Alaska.
"So this is the second article I've written," Landis said. "Ours is on red king crab mariculture this year, so we talked about using … facilities in Southeast Alaska or Alaska to do basically, like hatcheries like they do for salmon, except for red king crab. ".
It is a timely topic. State legislators passed a bill legalizing shellfish farms last year.
The Sabretooth Smolt team wrote an article looking at the sea cucumber diving industry and possible ways to boost it in the coming years.
"In this paper, the students discuss alternatives to the existing dive fishery," Sanderson wrote to KRBD. "The students discovered that there is a high demand for cukes in the Asian market and it is something Alaskans should take advantage of. Also, the students here say supply issues during the coronavirus pandemic and wanted to use this as an opportunity to make our community more food secure if a situation like that were to happen again."
Fry's team was a new addition to the show this year and they didn't write an article, they are focusing on the contest.
The students say they are looking forward to going to Seward in March. That includes Tosh Ratzat, one of the captains of the Salmon team.
"I haven't been in Seward for a long time," he said. "I would like to explore it a bit, that would be fun, and also learning new things with the contest is also a lot of fun."
Ratzat has high expectations for his team.
"I think if we all put our minds to it, I think we can do it pretty well," Ratzat said.
Students will begin practicing their research presentations at school and in the community soon.
Members of the salmon team include Tiernan Johannsen, Izaak Landis, Romel Del Mundo, Mayumi Houser, and Chezca Mae Correa. The smolt team features Tosh Ratzat, Kate Brown, Rickey Baum, Sampson Oliver and Paul Thompson. The junior team includes Carina Chernick, Kelvin Jiang, Gavin Harold and Leo Powell.
Raegan Miller is a Report for America Corps Member for KRBD. Her donation to match our RFA grant helps her keep writing stories like this. Consider making a tax-deductible contribution at KRBD.org/donate.