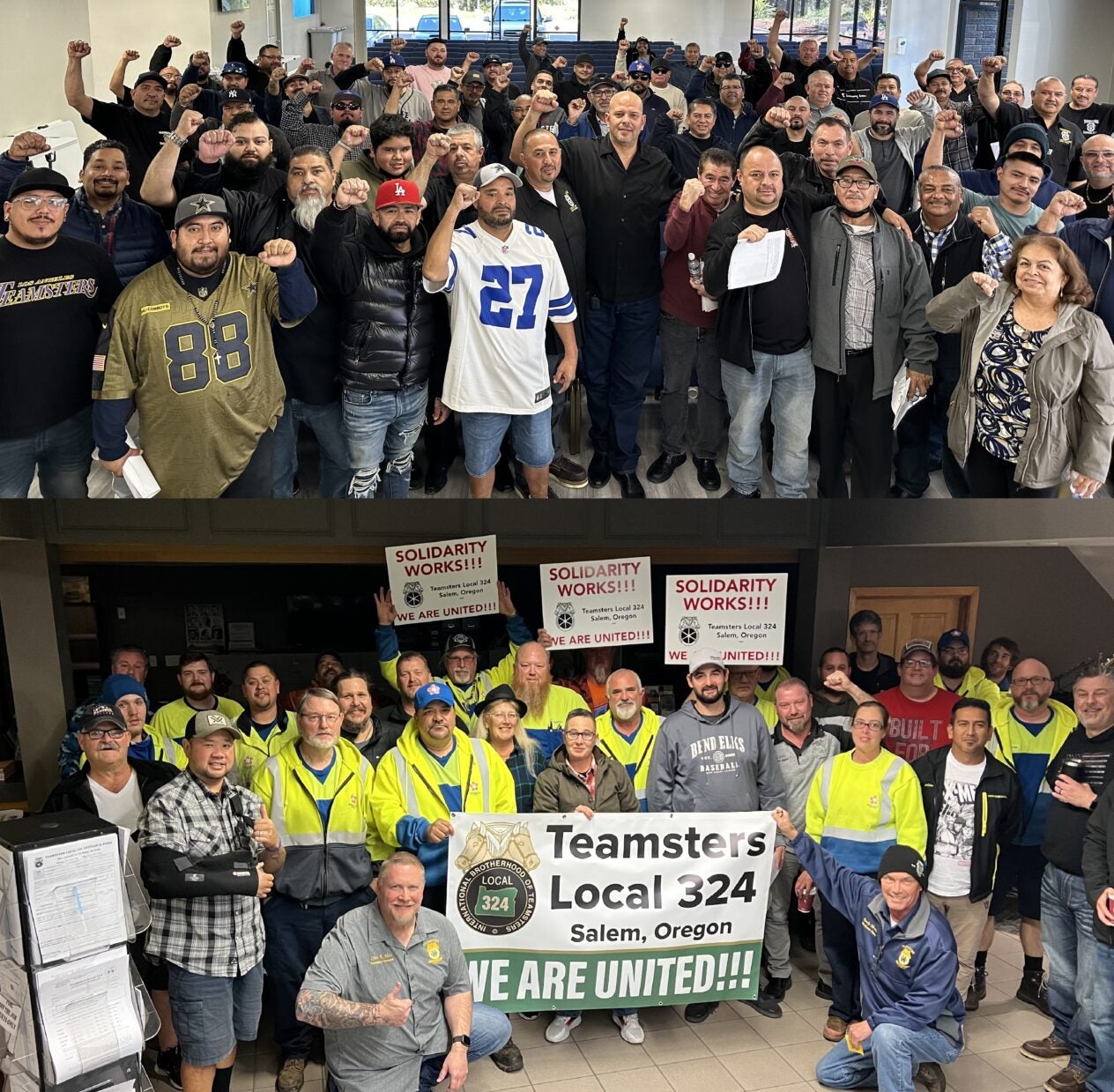 Teamsters get new deals for hundreds of waste workers
(WASHINGTON)—More than 600 Republic Services workers in Los Angeles County have won industry-leading deals with Teamsters Local 396. The contract victory is the latest in a series of new Teamsters deals at Republic Services and follows the overwhelming ratification votes from members of Teamsters Local 377 in Youngstown, Ohio, and Teamsters Local 324 in Salem, Oregon.
In total, nearly 900 Teamsters across the country have ratified nine new agreements with Republic Services since December, marking a successful launch of coordinated negotiation by the Division of Solid Waste and Recycling under the O'Brien-Zuckerman administration.
"The new approach in the negotiations paid off greatly. Through coordinated negotiation between locals and the solidarity of our members across the country, the company saw that we were united and knew better than to play their usual games," said Chuck Stiles, Director of the Solid Waste and Recycling Division. "Our members are more militant, motivated and enthusiastic under the new leadership of the International. He is making a difference in negotiations across the country."
The contracts will cover the Teamsters for the next three years and provide significant improvements to the workplace, including significant pay increases and improvements to pensions and health care.
"Our Republic Services members stood their ground and won significant pay and benefit increases that will raise the bar in an industry that has historically exploited a workforce comprised primarily of immigrants and people of color," said Victor Mineros, Teamsters secretary-treasurer. Local 396 in Covina, Calif. "These workers demonstrated the courage and determination that define what it means to be a Teamster."
Local 396 members voted almost unanimously for ratification with a record turnout, Mineros said.
"As a veteran Teamster healthcare worker, I can honestly say that this is the best contract we have won to date. Blood, sweat and tears went into this fight, but today we stand proud with this victory," said Ralph Moran, driver for Republic Services in Gardena, California.
Local 396 was one of several local unions that negotiated a new contract. In late October, three Local 377 bargaining units (residential, commercial and landfill) voted unanimously to authorize a strike at Republic Services after contentious negotiations with the company. Local 324 was also in negotiations and, along with Local 396, had prepared to honor the picket line in the event of a strike in Ohio. The three locations worked closely with the Solid Waste and Recycling Division throughout the negotiation process.
"Locals communicated with each other during negotiations, and the division led the way, keeping us together and moving in the right direction," said Ralph "Sam" Cook, secretary-treasurer of Local 377 in Youngstown, Ohio. "These companies will tear you apart if you don't stick together."
"Our success at the table was a direct result of our unity. When the company saw several locals join the bargaining sessions, our strength at the table was clear," said Chris R. Muhs, secretary-treasurer of Local 324 in Salem, Oregon.
Muhs noted that under the new agreement, wages will more than double for Local 324 members. Youngstown workers also highlighted the unprecedented strides being made at the table.
"Everyone was strong and stubborn during the negotiations. We fought hard to get this done and we're happy with the results," said Paul Gavin, a 34-year commercial driver with Republic Services and Local 377 chief steward. "The union always works better when we all work together."
Grassroots members like Gavin played an active role representing waste workers during negotiations at both locations, attending bargaining sessions via Zoom and sending a strong message to the company that Teamsters were united in the whole country.
"The strength of these agreements is a direct result of locals and members supporting each other at the table. Collaboration through national bargaining is key to securing strong contracts and raising industry standards," Stiles said. "These victories will lay the foundation for even greater success in 2023."
Founded in 1903, the International Brotherhood of Teamsters represents 1.2 million working men and women in the US, Canada and Puerto Rico. Visit Teamster.org for more information. Follow us on Twitter @Teamsters and "Like" us on Facebook at Facebook.com/teamsters.