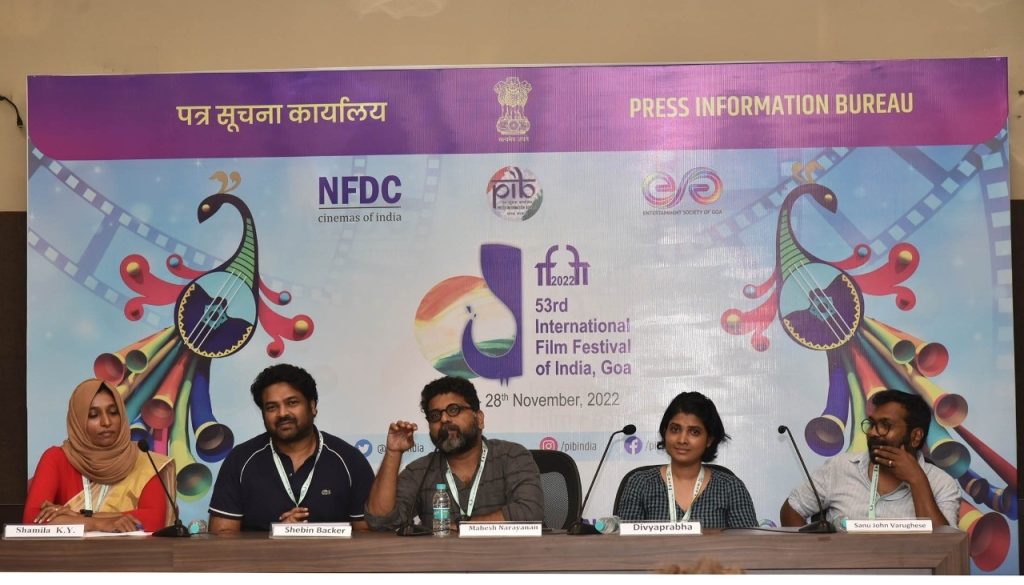 goemkarponn desk
PANAJI: Online streaming platforms and traditional movie theaters will co-exist, said Mahesh Narayanan, director of the film Ariyippu, which will screen in the Indian Panorama section of the 53rd India International Film Festival. He was speaking to the media and delegates at IFFI Table Talks organized by PIB on the sidelines of the film festival.
Shedding more light on the issue, Mahesh Narayanan said that in the past, independent filmmakers had no other option than Doordarshan to stream their films. "But now there are many platforms that support them. In one way or another the filmmaker can exist through certain platforms. But not all platforms will accept all movies. That depends a lot on the type of actors they have, on the type of feasibility they have in terms of financing and budget," he added.
But that does not mean that collective film viewing will end, the Director pointed out. He further added that the beauty of the film festival is the collective viewing. "It is very difficult for me to make a film for a digital platform. In theaters, people spend a certain amount of time sitting in front of a screen and watching a specific movie. But on the digital platform, people have multiple options to skip, go forward, go back, or change what they're viewing. It is a challenge for filmmakers to make movies for OTT platforms," he said.
Referring to the film Ariyippu, Mahesh Narayanan said that it is a migrant's story about the working class and the problems they face. "It also tells how the pandemic treated skilled workers who work in factories and how situations change with the sensitive issues that happen in their lives," he added. The film deals with a socially relevant issue of our time: modern technology that mediates interpersonal interactions. It's also a powerful film on the complex subject of a male-female relationship.
The film was shot in Delhi during the second phase of the Covid pandemic with a limited crew, which faced a lot of difficulties. Hinting at the pan-Indian nature of the film, Mahesh Narayanan said that although the story follows an immigrant couple from Kerala, the characters speak multiple languages ​​including Malayalam, Hindi and Tamil.
The film's producer Shebin Backer, actress Divyaprabha PG and Sanu cinematographer John Varghese also joined the conversation.
Synopsis
Ariyippu tells the story of Hareesh and Reshmi, an immigrant couple from Kerala who work in a medical glove factory near Delhi. They aspire to go abroad for a better life. During the Covid lockdown, when a doctored video resurfaces among factory workers, a Pandora's Box is opened, threatening the couple's jobs and marriage.