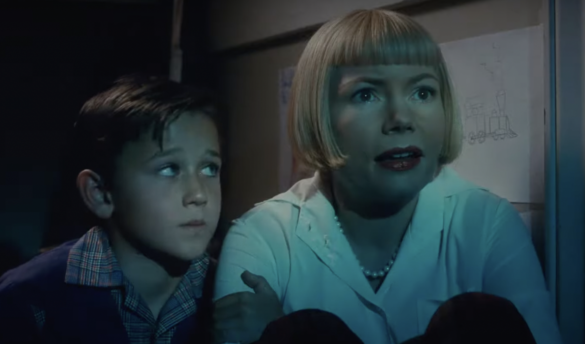 Directors: Steven Spielberg
Writers: Steven SpielbergTony Kushner
stars: Michelle Williams, Paul Dano, Seth Rogen, Gabriel LaBelle, Judd Hirsch
Synopsis: Growing up in post-World War II-era Arizona, young Sammy Fabelman aspires to become a filmmaker as a teenager, but soon discovers a devastating family secret and explores how the power of movies can help him see the truth. .
There has been a glut of semi-autobiographical films by prominent filmmakers in recent years. They are usually made by directors who have a style of course, but lack a certain coherence of vision throughout each project they dream of or undertake. You can see their bells and whistles, their favorite tricks, they work with a tight crew or a solid rotating cast behind the scenes, but none of them are Steven Spielberg. None of them have that screen presence.
When you sit down to let the darkness of the theater take over you, let the light of the screen envelop you, you know from the first frame that it is a Spielberg film. His backup techniques and his favorite compositions are familiar, but no less surprising when they make an appearance on him. The Fabelmans it's got all of Spielberg's tricks, but it's clear that, even with the trademarks, this is different territory for Spielberg as an artist.
It is true that if one analyzes Spielberg's films one finds brief bursts of autobiographical clues, sentiments, nods and whispers. It's not an open book, but we know him like we know the rest of our idols. Often in a Spielberg film, we're given great moments of tension, beautiful landing beats of a moment, bombast, adventure, drama, tension, yes, but what? The Fabelmans surrender is a moment of silence. There's something to be said for a director to nod as if he's listening. He nods as if he's heard our friend repeat an opinion that Spielberg doesn't understand real emotions. He nods at us as if he's heard the guy coming out of the theater claiming that the film's score is emotionally manipulative. He delights in showing us this silence, in not cutting off the awkwardness and letting it linger on screen. It's not as clean or clear as the more populated movies of him. The Fabelmans he lives in a gray area, in the minutiae with no stoic heroes, no obvious villains. It doesn't have a strong score to tell us who is who.
Most of the music in the film is diegetic. Mitzi Fabelman (Michelle Williams) is a skilled pianist and plays often throughout the film when there's no period-appropriate pop music or those leftover bits of John Williams brilliance. In one of the longer sequences, Mitzi plays late at night while Burt (Paul Dano) watches and Sammy (Gabriel LaBelle) edits the footage of the family camping trip in her room. We see the reverence Burt and Sammy have for Mitzi, Sammy for her charms and zest for life, and Burt for her intricate and precise skill. As Burt sinks deeper into his bow, Sammy notices something in the background of the raw footage of him. He sees a secret that he's not supposed to see. Spielberg persists in this simultaneous moment. It plunges us into the full spectrum of the character's emotional journey without a shred of dialogue or easy response, but what we see is Sammy's anguish and we see the glimmer of Burt's astonishment as his mind wanders from Mitzi's shape to what Mitzi is passing. . Non-incongruous music does not push us into these emotional catharsisthe actors, along with stellar editing by Michael Kahn and Sarah Broshar, show us the depth of feeling.
There are several sequences like that where we're shown how much Sammy distances himself from everything else when he's filming, where we're shown how much he's missing out on with a camera in his face. He distances himself at the moment, but when he arrives at his editing suite, he puts his emotional state into the visual metaphor of his work. It is the shots of Sammy as he projects his final product that are best composed and most imbued with the emotion he struggles to express. Cinematographer Janusz Kaminski creates these scenes of light and shadow on Sammy's face with a delicate touch. Kaminski's movement and Spielberg's composition make these shots of Sammy and his audience the emotional core of the film. Despite Sammy's failure to communicate his emotions, his movies speak volumes to the people he needs them to; whether they want to admit it or not. It's all done in the dark, but it's so beautifully clear.
While the most striking role is Mitzi, there is something to marvel at in Paul Dano's Burt. It's clear that Spielberg wanted us not to blame Burt, not to corner him out of pity or hate. Burt is a man who says too much about the things he loves. He is a passionate man who works, he really tackles things. Dano has never been better in his meek person, his man brimming with ideas, who keeps them in reserve, who feels trampled and forgotten. It doesn't chew up the landscape, but boils under it, lingers in it, and takes it all in with a sweetness and benign nature that is absolutely remarkable.
The fabled men It's a remarkable movie overall, but it leaves a lot of loose threads. It seems that there is a desire to download everything, everything there at once. Focus is pulled, our eyeballs lock onto one thread, bounce to the next. Spielberg may have told Tony Kushner when they sat down to write that he'll only do it once. So, they tried to get everything, while also having movies within movies and a coda that, while very funny, is kind of silly. Yet in a film so beautifully made, it's easy to forget what you don't like and marvel at the mastery of what you do like.
That's Spielberg's work in a nutshell. He's done stinky stuff and masterpieces and some that are just for a good movie time. He's a director who appeals to the inner movie buff in all of us because in the midst of bombast and action, he can find that chord to strike. He sees us in our seats and he wants us to feel something. With The Fabelmans he's letting us feel all of him, warts and all. The warts are small and the sensations are magnificent. It may not be a masterpiece, but The Fabelmans it is a beautiful work of art.
Grade: B+