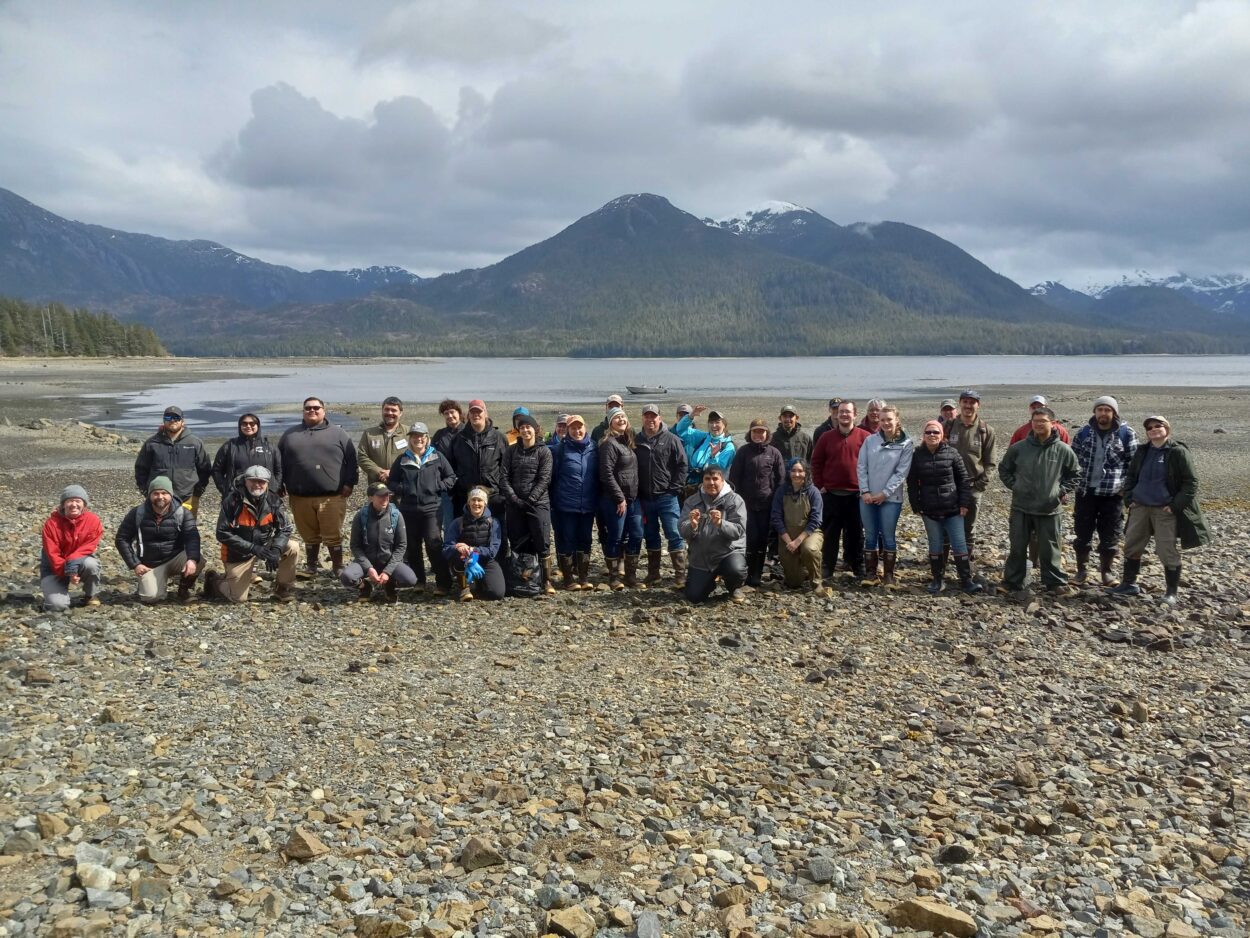 Invasive green crabs are in Alaska. And they are destructive, outnumbering native species and destroying essential seagrass. At a workshop in Metlakatla last month, citizen scientists learned from experts how to look for invasive crabs in their own communities.
Scientists and concerned Alaskans are in port at Tamgas. Gathered near Colby Creek Beach, they are getting a first-hand look at the European green crab. And time is of the essence. The crabs appeared in southeast Alaska last summer and more than 800 have been found since.
"It's like we've got our hands on it to come here," said Taylor Stumpf, of the Metlakatla tribal wildlife department. He is helping people learn to identify, measure and document crabs.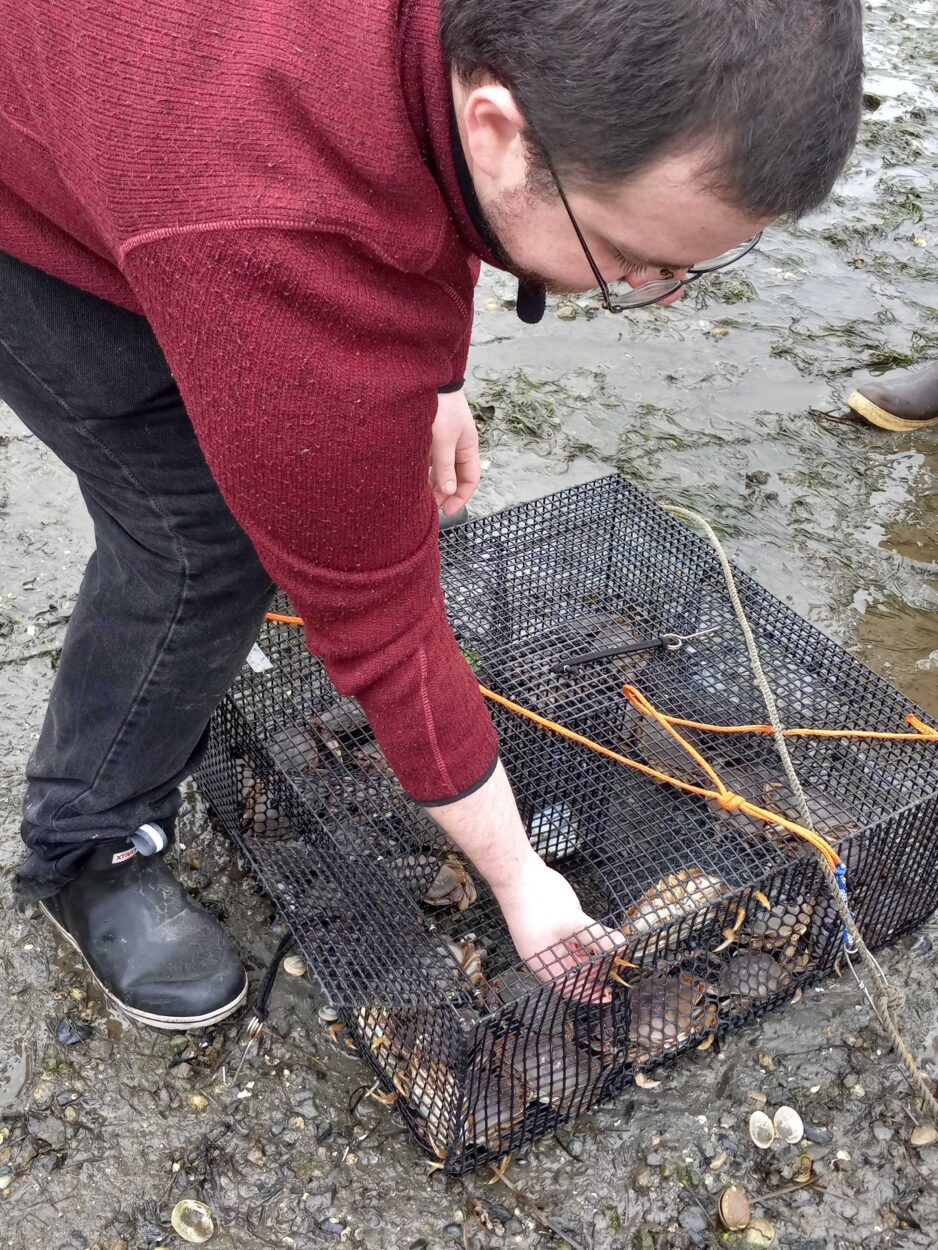 The workshop drew participants from across the region, including Ketchikan, Kake and Prince of Wales Island. Green crabs have already infested the waters around Haida Gwaii, California, and Washington. But for now, Metlakatla is the only place in Alaska where live green crabs have been documented, which are destroying vital seagrass and habitat for abalone, clams and Dungeness crabs.
But that doesn't mean they won't spread. That's why the workshop, which was organized by local, state, federal and tribal agencies, focused on training people to identify crabs and alert authorities before it's too late to control the spread.
People aren't allowed to kill the crabs themselves (officials are concerned they'll mix species and eliminate a perfectly good Dungie), but they are encouraged to gather information and alert authorities. That is what the workshop is teaching them to do. Agencies organizing the workshop included Alaska Sea Grant, Washington Sea Grant, and the National Oceanic and Atmospheric Association. Other agencies involved included the Central Council of Alaska Tlingit and Haida Indian Tribes and representatives from the US Coast Guard. Participants included area mayors, concerned citizens, scientists and more.
Stumpf explained some clues to a crab that doesn't belong. Wildlife officials also handed out laminated guides showing images of the green crab to all participants.
"They have the five spines on each side of the eyes and then the three bumps in the middle," he said. "So we've been teaching people with guides how to identify crabs."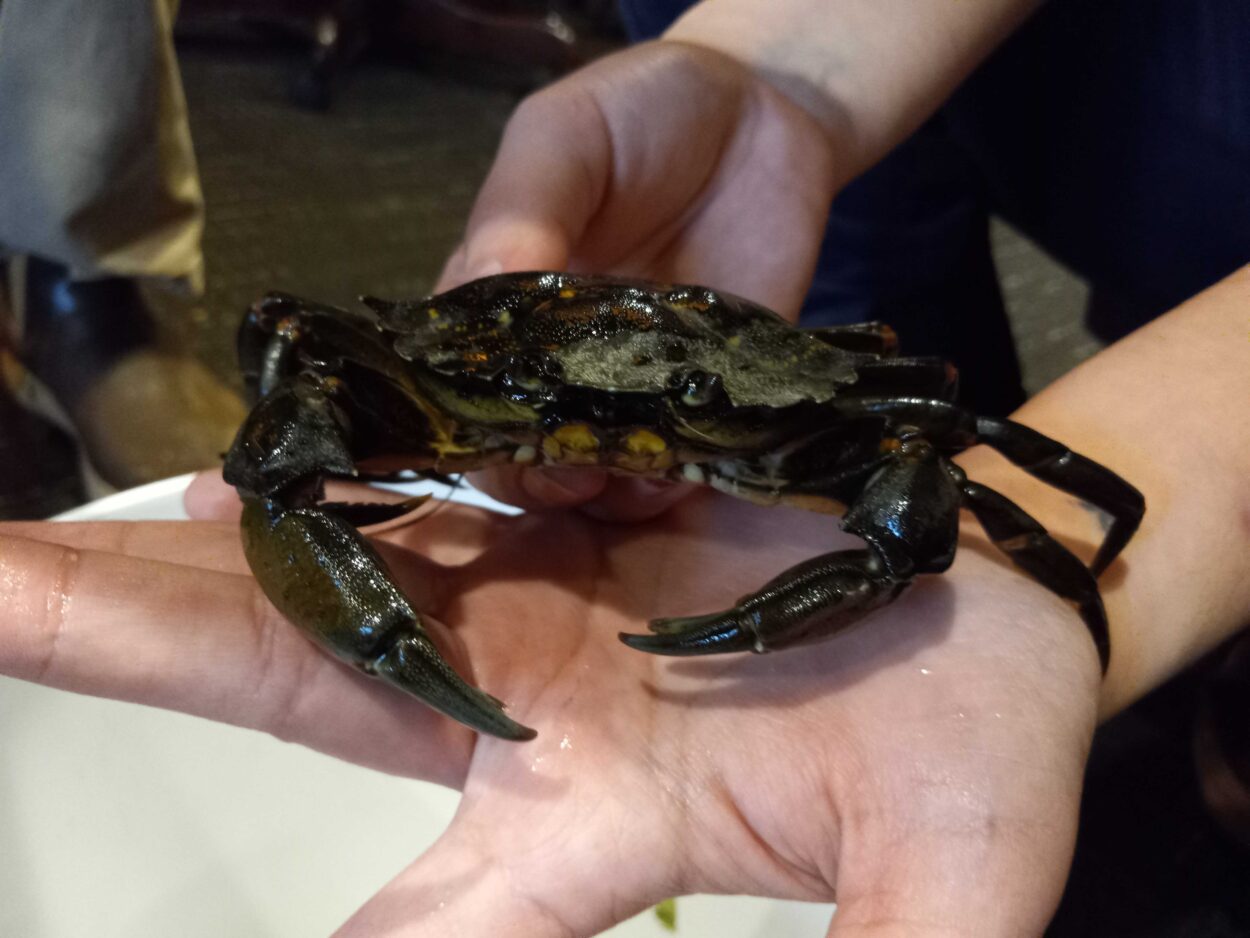 Ewa Booth is showing people how to set and bait different types of traps. She is an intern with the Metlakatla wildlife department. She said the Tribe has been experimenting with what works best.
"Usually they like chum and herring," Booth said. "We haven't really used cat food like they suggested."
Booth said he has noticed a difference on the beach since the first crab was found last year.
"Seagrass is important because it is like habitat for other clams and, like juvenile fish, juvenile salmon," Booth explained. "So it was kind of a concern for us when they first arrived. And I have noticed that they have also become much shorter, like sea grass."
Booth noted that crabs break through seagrass while searching for food.
There is no sure way to eradicate crabs once they have arrived. The tribal nations of Washington state have been fighting them for years. But Genelle Winter, Metlakatla's invasive species and grants coordinator, said the key is to keep finding them. She said that Metlakatla has always protected its resources, and that is what the town will continue to do.
"It just heightened everyone's need or awareness to protect those resources, right?" said winter. "As if those resources were already super precious. It's wanting to make sure they stay intact."
Each female crab is capable of laying hundreds of eggs. In Metlakatla, green crab fishing is a full day's work. Ask Gabriel Nathan.
"We've been catching a lot when they were molting, when they were trying to lay eggs and everything," he said. "And we caught like more than probably 40 green crabs with eggshells attached. And that slowed down a lot. So it was great."
The message of the workshop is also one of hope: if everyone learns to spot these crabs, maybe there is a way to protect other communities.
Tre Patterson, of the Metlakatla wildlife department, said that's the goal.
"I didn't think the state or other places close to us were taking it as seriously as we are," he said. "So to see something like this happening here on the island today is great, to see that more people are taking this issue seriously.
Patterson said it's in everyone's interest to stop the crabs, and things will get even worse if the crabs keep moving north.
Raegan Miller is a Report for America Corps Member for KRBD. Her donation to match our RFA grant helps her keep writing stories like this. Consider making a tax-deductible contribution at KRBD.org/donate.