There are various definitions of "critical incident" within the law enforcement profession. From the perspective of psychology, a critical incident is often referred to as any Traumatic event incurred on duty in which an officer is exposed to a direct threat to his or her own life or the life of a fellow officer, is injured, or feels a sense of profound helplessness during an encounter.. Following the incident, the officer may experience a degree of emotional, psychological, and/or physical distress ranging from mild agitation to a major meltdown and post-traumatic stress injury (PTSI). Whether or not he is directly or indirectly involved in a critical incident in which an officer is injured or killed, he will experience some reaction to the event.
There are two common and effective law enforcement interventions to help officers mitigate the impact of a critical incident: peer support and Critical Incident Stress Reporting (CISD).
A common misconception about peer support and CISD is that it mimics or replaces a "therapy" session. Therapy is a semi-structured, regularly scheduled appointment with a doctor or psychologist. Therapy is typically based on uncovering deep-seated traumas and working through diagnoses such as depression, anxiety, and post-traumatic stress injuries over a period of time. During CISD peer support or intervention, the contact is often incidental and the purpose is to provide you with the tools, as needed, to address a recent trauma or incident.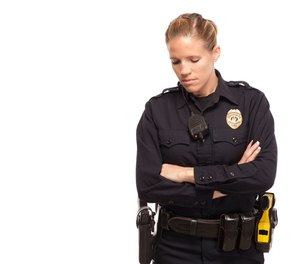 Peer Support and Peer Support Teams are typically comprised of officers, dispatchers, and support staff who have been trained to identify common stressors and indicators of trauma and are equipped to understand available resources. When indicated, peer support will help guide peers to higher level resources, such as therapists. Support peers "get it" as they are in the same profession, doing the same job and their mission is to support their brothers and sisters in the same routine.
A critical incident stress summary is a group intervention, often led by a psychologist, that is characterized by a semi-structured discussion focused on the crisis of the traumatic event. Think of a tactical report, except in this format you're reporting thoughts and feelings rather than positioning and tactics. The purpose of debriefing is to mitigate the trauma response and prevent what begins as a normal reaction to a horrible event from becoming PTSI, major depression, or the catalyst for divorce.
Think of the trauma reel that may be going through your mind after an incident. Both peer support and CISD help download information from your brain into the conversation to help you slow down. Easier said than done.
There are different models of peer support and CISD in the United States. In most cases, any kind of support is better than no support; however, to maximize time and resources and provide the best care, recognized best practices should be considered.
Peer Support Best Practices
Instead of department staff choosing themselves to be on the team, consider creating a survey that is sent out asking employees, "If you were going to talk to someone within the organization about something personal or professional, would you? who would come? " Once you have a list, reach out to those people and see if they are interested. This becomes the foundation of your team.
Make sure your peer team is representative of the people in the organization, so consider jurors, shipping, custodial, civilians, retirees, etc. Your team should be large enough to support anonymity and diverse enough that anyone in the agency can find someone who shares some common ground.
A dishonest peer team is not good for the employees or the agency. Ongoing training and accountability are a must. Make sure your team fits into a command structure and that someone is in charge of the team and available to answer questions and help resolve problems. Hopefully, that person also believes in the mission and can support the advancement of the team and its members.
Ultimately, it takes a breach of confidentiality for your team to lose credibility. Have people sign a confidentiality agreement. Play it at every workout. Make sure that if someone flagrantly violates confidentiality, there is a way to kick them off the team.
Critical Incident Stress Reports Best Practices
Make sure your supervisors and command staff understand the CISD process before you need to activate equipment. During an incident with an officer down, the last thing you want to do is try to explain to your command the effectiveness of the intervention as the incident unfolds.
See your psychologist beforehand. Encourage the therapist to take walks and have a presence at the station. That way, when they are called in to make a report, there is an established level of familiarity and trust. There are organizations that hire culturally competent therapists, like The Counseling Team International, and there are people in private practice who have the knowledge and experience to get the job done. Most may not know when a report is going well. Everyone will know if it isn't.
Consider including the report in your downed officer operations plan. This way, if you're on vacation, someone else can handle the steps to get the process started. Don't be the only one with the knowledge, after all, if you were involved in the incident, you shouldn't be coordinating resources but leveraging them. If you have a peer support team, they can help coordinate.
The more you plan, the more likely it is that if you experience a death in the line of duty (and I hope you never have to), your people will be able to grieve, heal, and have the tools and resources to navigate through it. the difficult times ahead. If you would like more information on peer support and debriefing practices and resources, here are some resources: