Lutron, a leader in lighting and automatic shade controls, announced the opening of its new Lutron Design Studio in Los Angeles, expanding its support presence with West Coast-based custom integrators, business partners, customers and prospects.
The gallery-inspired 3,200-square-foot Lutron Design Studio is located at 333 S. Grand Ave. in downtown Los Angeles.
Lutron says the space will provide guests with an exclusive destination to learn about and experience the company's portfolio of lighting, shades and controls products. Again this year, Lutron dominated those categories in the annual CE Pro 100 brand analysis, revealed in the June 2023 CE Pro issue.
The Lutron Design Studio is open to architects, designers, lighting designers, builders, specifiers, and other industry professionals, and also serves as an appointment-only resource for homeowners.
Drawing inspiration from the thriving local art scene, the company notes, the studio offers a new aesthetic for a Lutron showroom, designed by an in-house lighting and interiors team led by Cecilia Ramos, Rob Laterza and Christine Lintner, along with the ASD architects | DARLING.
In keeping with this type of Los Angeles art gallery, Lutron Design Studio puts light in the spotlight. The space is flooded with natural light, coming from the windows and from the Ketra light inside, while billowy drapes that fold around the periphery create a sense of drama and playfulness.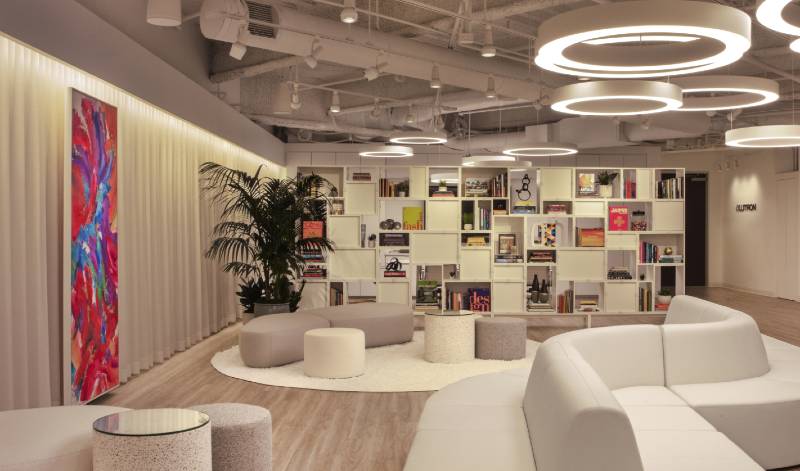 The company aims to illustrate the power of being able to control natural light for comfort, sustainability, and art preservation. Inside, white furnishings serve as a backdrop for vibrant art pieces, and bold colors bounce off white hues throughout the day, highlighting how the material reflects light and color, Lutron explains.
Local Art at Heart of Lutron Design Studio Creation & Experience
"The city of Los Angeles provides much inspiration – there is exceptional quality of light here, from radiant daylight to saturated evening sunsets, combined with a rich and vibrant culture that encompasses history, entertainment, music and a remarkable scene. artistic," says Laterza, manager of Lutron's global experience center.
"It was important to our design team to create a space that not only showcased the transformative qualities of our lighting and shading solutions, but also inspired and honored the community around us. We choose to do that by curating a space where art can be displayed to its full potential, while also providing a canvas to invite our customers to create their own vision with the help of Lutron offerings."
Solutions at Lutron Design Studio are meant to emulate techniques seen in the theater, including dramatic drapery and the use of natural and artificial lighting, the company adds.
The studio will include artwork commissioned by Moisés Ramírez, who drew inspiration from Los Angeles' rich artistic heritage. His pieces are the main source of color throughout, with illuminated hues brought to life by exclusive Lutron lighting features, the company says.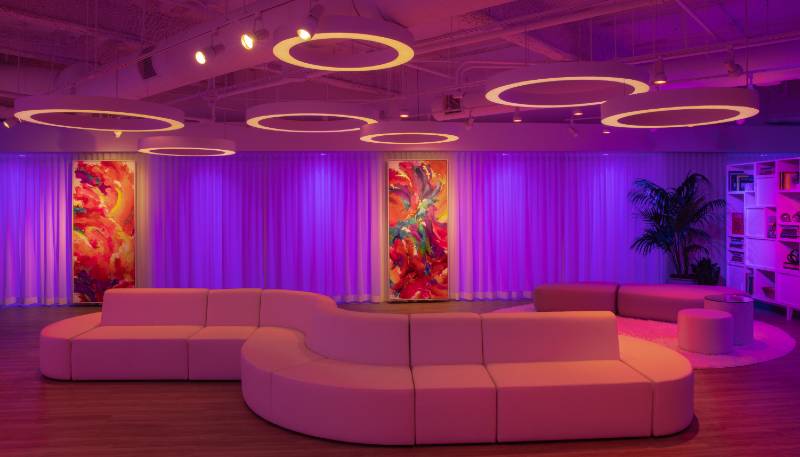 Lutron Design Studio will highlight the company's popular and extensive solutions, including the Palladiom cordless shading system, the Ketra Lightbar Slim fixture, and the Athena Wireless Nodecontroller system. It also incorporates finelite luxury luminaires to demonstrate the adaptability and compatibility of the Lutron portfolio within today's smart homes.
This new showroom, which opened on May 18, is Lutron's tenth, adding to its lineup of global showrooms that are also located in New York City, London and Toronto.
If you enjoyed this article and would like to receive more valuable industry content like this, please click here to sign up for our digital newsletters.