Are you ready for a classic point and click adventure game? Syntaxity has another new puzzle game with "Lost Treasure 2" and the best thing about it is: Currently, you can have fun for free on iOS and Android platforms!
---
Tl;DR
Lost Treasure 2 normally costs $2.99 ​​on iOS and Android platforms.
4.8 star rating on Apple, 4.6 star rating on Google.
There are no ads inside, but there are in-app purchases (not required).
---
Damn Clickbaiter Drees: Here, he tells you about a fun puzzle game, but he's only spent a few minutes with Syntaxity's game. Still, I'm sure I'll have a good time with this mobile game, because we've shared point-and-click adventures like Enchanted Worlds or Blackthorne Castle with you before.
Unfortunately, I only know that the game is free for both iOS and Android, but I'm not sure how long it will stay that way. So here is my recommendation: download the game first, then go back and read the rest of the article. But don't forget to do the first, folks!
Get Prime Gaming free for 30 days
with Amazon Prime trial
Why is it worth downloading "Lost Treasure 2"?
Those who were happy with the other Syntaxity games will certainly be happy with "Lost Treasure 2". The idea and mechanics of the game are identical: you make your way through beautiful visuals that have specially rendered settings and come across objects that you have to collect to solve many puzzles and brain teasers.
As usual, you will have three important items with you at all times:
A bag in which you will keep all your findings that you will need for later tasks.
A camera that you can use to take in-game screenshots to help you solve puzzles.
A map that allows you to fast travel to places you have already discovered.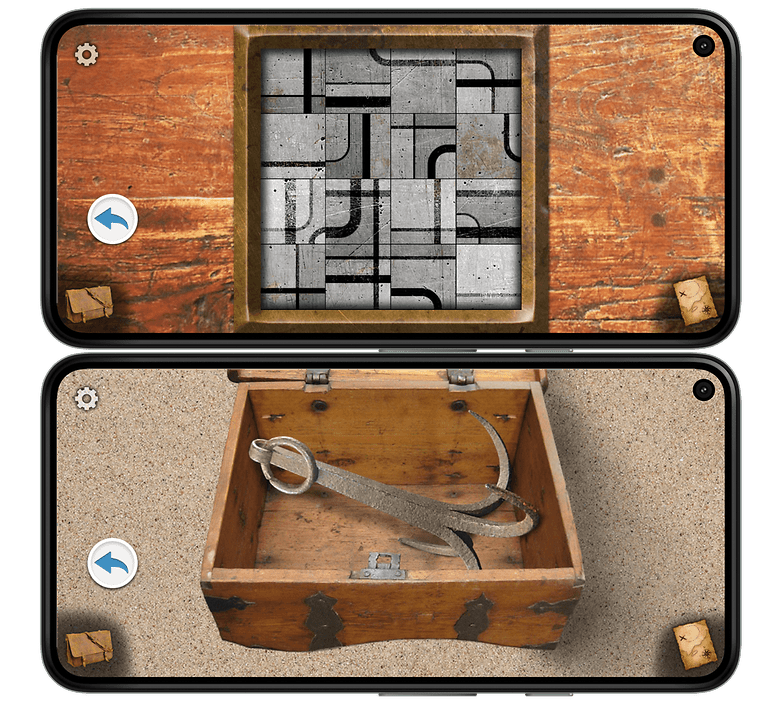 This time you will travel near the Galapagos Islands. You will come across many islands, you will have to overcome mazes and much more. Riddles lurk almost everywhere, where some are quite easy to solve, while others require some extra brainpower. The difficulty level remains fair at all times, but if it doesn't work, you can also get help. There are free tips, but you can also purchase extra help for $0.99.
Honestly speaking: you don't have to spend money on it. That's because a) you can figure it out with a little thought, b) there are free hints available, and c) rumored solution videos are also available on YouTube (but you didn't hear that from me!).
Is it safe to download The Lost Treasure 2?
The game is ad-free and you don't need an account. There are in-app purchases, as mentioned above, but none of them are required. As always with Android gaming, we're once again referring to the privacy platform known as Exodus. It only discovered the usual two trackers and five required permissions. Everything that is asked of you falls within the spirit of the game, so you can click the download button without hesitation!
Anyway, I don't understand why you haven't installed "Lost Treasure 2" already, didn't I tell you to download it for fun at first? Perhaps I am too excited once again, simply because I like this series of Syntaxity games. Crisp puzzles, a laid-back atmosphere, which was also enhanced by a chilling soundtrack – I just can't say no to that.
Probably many others can't either, because although the game has only been on the market since May 2022, there are already hundreds of reviews praising this title on Google Play and the Apple App Store. The Android version scored 4.6 stars, while its iOS counterpart is rated even higher at 4.8 stars. So, last call: Download!