GELFAND'S WORLD – People who work in earthquake preparedness, especially volunteers, are used to being ignored when it comes to public response. Today, there is a horrible reminder.
It came in the form of a 7.8 magnitude earthquake that struck southern Turkey over the weekend. Now we're starting to get the tallies, in the form of the death toll, the number of injuries, and a rough look at the number of buildings that were leveled by the tremor. Estimates of the dead are over 4,000, and the estimate is that several thousand buildings have been destroyed. One particularly bleak tale concerns buildings in which all that remains are twisted stories.
The number of injured in Turkey alone is in the "several thousand", according to the most recent news coming out of the region.
The importance to the inhabitants of Los Angeles? Remember that we are behind schedule for "The Big One", the predicted earthquake that would rupture along the San Andreas fault. A large quake along this fault is forecast to have a magnitude of 7.8 or even higher, which is about right about this week's Turkey quake. Ours could even be worse by a few fractions of a magnitude.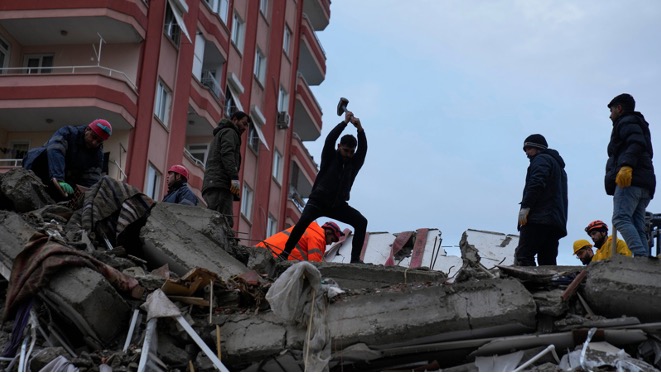 What would this do to the Southern California area? There is a lot of information out there, most of which is being ignored by the general population, but here is just one explanation you can follow. As the narrative explains, we could have an immediate death toll close to 2,000 and perhaps twenty or thirty times that number of people injured. As the story explains, buildings built before 1980 are particularly susceptible, but even some skyscrapers are at risk.
There is something you can do to prepare. In this area, you can find future CERT classes here. I have been attending one of these classes and will have more to report later.
the kindest news
We are not an ancient civilization, with structures dating back hundreds of years. We have the advantage that our homes were built in accordance with building codes. Almost all of us would survive The Big One, but the consequences could be brutal. And we must remember that older buildings, built to older codes, are not as stable as those built to today's standards. There are still some soft-story apartment buildings that have not yet been upgraded through seismic retrofits. And even the newest buildings won't protect everyone in the event of a violent earthquake lasting more than a minute. We can expect to see broken bones and head injuries, and a collection of overworked and perhaps overwhelmed first responders.
But the current assumption is that only one in five thousand of us will die in a major earthquake, and the rest of us will be alive, if somewhat shaken, both literally and figuratively. But as we've noted here, you'd better have water and your medications with you if you expect to be safe and comfortable. And you might think about having a few days' worth of canned food and a non-electric can opener.
The entire emergency preparedness effort was delayed by several years due to the Covid-19 epidemic, but it is starting to make a comeback. At the very least, you can save some water, several gallons at the very least, and you can think of must-have recipes for both yourself and your pets. And if you're feeling motivated by the Turkey disaster, you can sign up for that CERT class. Here's a hint on how to take the CERT: It sounds like a lot of effort since it's spread out over seven sessions (usually one a week), but it doesn't seem like a chore to me. What CERT training does is indoctrinate you into a system by which firefighters and some trained volunteers can deal with the injured and, coincidentally, any problems you might encounter yourself at ground zero.
I will stop the sermon here. You'll either be motivated or you won't be, and ultimately, in a scenario where you're on your own, you'll be more or less prepared depending on what you do now, and next month, and perhaps for the next several years.
But one last suggestion. In the event of a major earthquake, you won't be able to jump to your feet and run out the door, nor should you. Exactly the opposite. You are advised to put your head and torso under something protected, perhaps a table, and hold on until the shaking stops. There are brief "duck, cover and hold" summaries that are designed to properly guide you in a moment of crisis. Each additional element of preparation you can participate in is likely to make you much more confident and able to withstand the fallout of the big one.
(Bob Gelfand writes about science, culture and politics for CityWatch. He can be reached at [email protected])