day 38
Except for our campsites, and going to/from them, the day's terrain was above 8,000 feet. At the first creek, I finished my breakfast oatmeal and chatted with a girl from NoBo named Nicole. Several miles later, I filled up my two-liter bottles and drank water, preparing for a dry 15-mile stretch. Luckily it was a cloudy day and therefore cooler.
I finally caught up with Karin and we had lunch at a high point overlooking the snowy peaks. I got very tired afterward, not physically but mentally from the previous night's lack of sleep, and stopped to lie on the floor for 20-30 minutes. Karin also stopped to rest. Then the sky darkened and we experienced a monsoon storm – intermittent light raindrops and a rumbling sky.
We did maybe a mile of downhill, 23.4 mile day, before stopping by a creek to camp.
day 39
This morning as I sat on a granite boulder filtering water from a crystal clear stream, I was so happy to be out in the open. I mean, I'm happy almost every day on the road, but it hit me so hard at the time. I am where I want to be!
The trail traversed small slopes, then settled into a descending path that intertwined with Mission Creek. The two followed the same valley and most of the crossings were necessitated by an obstacle such as a cliff. At first the crossings were jumpable, then the creek widened. I changed into shorts and walked around in socks and shoes. There were at least 20 crossings, however it was a hot day so each dive felt refreshing and excess water quickly drained from my shoes. Usually the water would hit me mid-calf. I discovered a couple of camouflaged frogs on the side of a rock.
At the last crossing of Mission Creek, I came across a group of hikers, Karin among them, resting in the shade of a tree. I joined them and took out my lunch. While I ate, I chatted with a guy named Tick Shot. Noticing storm clouds on the horizon, I woke up and headed up the hill. It was hot, however at the top a breeze made the heat more bearable. I met a hiker from the SoBo section named Anna and as we chatted the next few miles flew by.
While Karin was worried about Fuller Ridge, I was nervous about the Whitewater River, though less as we got closer and NoBo's reported an easy crossing. I was hoping to follow Karin's lead, but I didn't like her route. An island of rock divided the river in two and I crossed there, the current strong but below my knees. I felt secure after successfully choosing my own path.
We bypassed the Whitewater Preserve campground to put in more miles, eliminating a hill climb. At the top, the beautiful evening light illuminated the waving grass and bushes covered with tiny white flowers. The wind was blowing hard. We found a campsite on the sand and Karin held my tent in place of hers until I was able to pitch it.
day 40
I woke up just after 2 am to see the red light from Karin's headlight as she packed up. I put my earplugs in and went back to sleep. At 5 am I got up and by 6 am I was on my way. After a quick hill, the terrain sloped gently down. The trail passed a wind farm, skirted Cabazon, and went under I-10. It reached a low point of 1200 feet and then began to climb. It was another hot day.
After 10 miles, I stopped at a water spigot. I huddled in the shade of a large rock to filter the water and chatted with a Yorkshire couple. I have not mentioned that about half of the hikers I know are from abroad, mainly from Europe. Unfortunately, many of them, especially the younger ones, are reserved.
I spent the rest of the day climbing the foothills and then the side of Mount San Jacinto. Due to the heat, I was worried that the climb would be strenuous. However, the trail climbed gently through long switchbacks and there was a nice breeze. Around 1:30 pm, I found Karin huddled in the shade under a large rock. We had lunch and chatted. Then my portion of shadow disappeared and I resumed the ascent. For entertainment, I started book one of Rick Riordan's "Heroes of Olympus," the continuation series of the Percy Jackson books.
It really was a beautiful climb, awesome views and lots of flowers, mainly fragrant purple flowers. By nightfall, I camped at 6,400 feet. Karin joined me while she ate dinner. We were at the edge of the tree line and about three miles from Fuller Ridge.
day 41
In the early hours of the morning, I woke up to realize it was raining lightly, so I hopped out of the tent and quickly put on my rainfly (which I had left for stargazing). There were flashes of lightning in the distance. I heard it rain a few more times. We decided to sleep in and didn't leave camp until 7 am.
After hiking three miles and collecting meltwater, Karin and I started Fuller Ridge. It took a bit of meandering before we found the NoBo starter track, then we covered about 1/2 mph. It was a complete snow cover, except where the rocks and bushes stuck out. We carry our micro-spikes and use our poles a lot. It really wasn't as bad as any of us had imagined, there were no scary descents. I felt like we had the advantage as we were going uphill which made it harder to slide. The snow had given way, but it was not muddy.
After 1.5 miles of traveling through the snow, we happily discovered a ~1 mile barren uphill and downhill section. We had lunch before continuing on the patchy snow. Bare areas were quicker to walk, however it could be tricky to relocate the boot track. Much sooner than expected, the ridge was finished. Then the San Jacinto River roared down the hillside. The track intersected at a sketchy log which was approached through a steep snowbank. I didn't trust my balance, so I dropped to my knees; Karin did it standing up. Our feet were completely soaked at that point.

There were two options, take the PCT or the alternate route up and down San Jacinto Peak. We settled on the latter and found a good boot track after some trial and error. The route was completely covered in snow, but not incomplete. Karin and I watched the sunset from the top of the peak, at 10,813 feet. She made the whole day worthwhile and we couldn't have done it without each other's support. Then we slept on the summit. I was grateful to be able to eat dinner and take off my wet socks and put on some feather boots.
day 42
Unfortunately I slept terribly, not sure why. On the plus side it was a beautiful sunny morning with blue skies. The first section of the boot track took us straight down the mountain. I didn't care about the exposure; Karin found it terrifying, but she got over it. Soon the trail leveled out into a wooded area and there were occasional bare patches of dirt and streams. In less than five miles, we rejoin the PCT.
A short time later, a group of five NoBos came up and I saw Debbie among them. I yelled "Debbie" and ran towards her. She saw me and ran forward; we are in a big hug! It was so good to see her again. The three of us quickly caught up and then Karin and I briefed her group on the upcoming conditions.
The sky had been darkening for some time. Soon a splatter of raindrops began to fall, so I put on my rain jacket and backpack cover. When it started to rain and hail, I stopped under a pine tree full of needles and had a sandwich. Karin joined me, umbrella in hand. Once the precipitation turned to rain, we resumed our march. We met a park ranger who didn't check our permits because of the rain.
We ate lunch and got water at Tahquitz Creek, chatting with a large group of hikers. A man named Endgame gave me a handful of peas. For another hour, we hiked through solid and then patchy snow. It gradually disappeared and we happily removed our micro spikes! The path turned a corner, offering a view of Palm Springs. There was one last stream of snowmelt where we topped off our three liters each.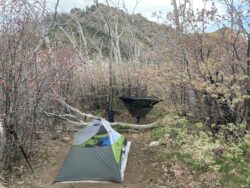 After crossing a rockslide and rock slide, we found a beautiful campsite. Budding shrubs surrounded a flat, soft spot of dirt with potential for hammocks nearby. I was losing strength and went to sleep shortly after dinner.
day 43
What a great night's sleep! Refreshed and with a light pack, I charged up the hill. The trail took me around Apache and Spitler Peaks, down and up a pine dotted peak. On the next ridge line, I scared off a rattlesnake. He shook me and then curled up in a protective position. I walked by, excited to have seen it! I previously saw a small garter snake and a large brown snake.
About four miles up the road, I found puddles of water in a slow-flowing stream. I immediately scooped up, filtered and drank 1/2 liter, getting more to go. Then it started to rain, so I put on my gear. It fell pretty hard and I kept walking. Finally, I stopped under a tree, my pants sodden, to watch the rain. I really wanted to finish this stretch of the trail, but felt a sudden pang of sadness as I said goodbye to the desert. When the rain stopped, the reminders were everywhere. The water pooled in rock crevices, ran in a small stream along the trail, and sparkled in the bushes like little gems.
On the highway, Karin and I finished the Southern California section of the PCT, 653 miles from Campo to Walker Pass! We walked a mile down the road. Unfortunately Paradise Valley Cafe was closed but we each had one dinner left. We went to Richard's house across the street. I pitched my tent in his garden. Sitting down to kick off my wet shoes, I watched her golden chicken use a potted plant to fly over the fence and escape. I told Richard and he moved the plant. Karin and I chat with half a dozen other hikers and do laundry.