We get going!
January 30, 2023 by
Edward Stephen

in News, Summary with comments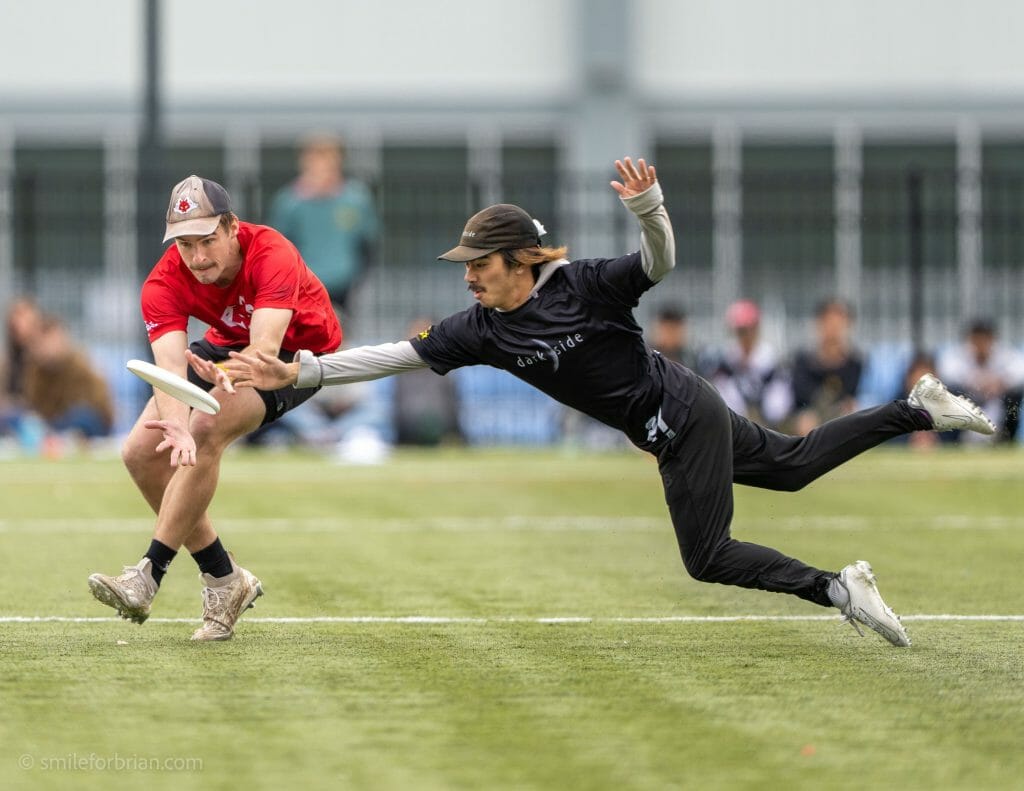 University Update, brought to you by Spin Ultimate, it's back! Throughout the spring season, we'll be posting a short weekly recap of all the action in the college division. This will serve as a supplement to our standard tournament reports and provide a high level look at the latest happenings and the biggest stories of the week. Support the brands that make Ultiworld possible and shop at spin last!
Do you want your tournament to appear here? Send a summary of what happened. right here.
ID Men
BYU undefeated; SLO, Southwest Region Triumphant
The men's division at the Santa Barbara Invite had one of the deepest fields in its history, resulting in many upsets. It was an excellent debut for #12 BYU CHI: They followed up a perfect doubleheader on Friday night with a 4-0 run in their group on Saturday, and none of their games had a margin of less than four points. Their weekend included a 13-7 victory over tournament champions #7 Cal Poly-SLO SLOcore and semifinalists #15 UCLA Smaug. Jensen Wells, Chad Yorgason and Porter Oyler all looked good and the team is sure to move up the Power Rankings after their first meet of the spring. They return to action at the Florida Warm Up next weekend.
Cal Poly-SLO, building on play from Anton Orme, Seamus Robinson and the return of Calvin Brown, were the official tournament champions after defeating a surprising #23 Cal Ursa Major 13-8 in the final on Sunday. The other upsets of the weekend included a scintillating semifinal debut for the UC Santa Cruz Banana Slugs that featured victories over multiple top-25 squads, the last-minute addition of Brandon "Lotto" Van Deusen as another star for UCLA and a northwestern region. who failed to crack the semifinals. Check out Jake Thorne's Saturday impressions. A full recap of the tournament will be available later this week.
darkside clean at home
On the East Coast, North Carolina's No. 1 Darkside bested all other contenders for the crown in their home tournament, the Carolina Kickoff. They trampled #9 NC State Alpha 15-8 in the final, dropping just double figures in their Friday night exhibition game against Duke Brimstone. The UNC Charlotte Skyrise and South Carolina Gamecocks rounded out the semifinals, signaling a real contention at the Atlantic Coast Regionals. A recap of Brad Ward's tournament will be posted soon.
Elsewhere in the Division
In the Southeast, Emory Juice defeated host Alabama Yellowhammer 11-10 at the T-Town Throwdown. The Central Florida Dogs of War and Mississippi State Darkhorse also had strong weekends in what will be a warm-up for Regionals in April.
The William & Mary Merry Men posted a victory over the James Madison Hellfish in the Mid-Atlantic Warm-up. Semifinalists RIT Spudheads and SUNY-Binghamton made strong first impressions out of the region for Metro East.
Out-of-state teams Utah Valley and Colorado School of Mines Entropy were the class at the New Year Fest in Arizona. Utah Valley took the final with a score of 13-6.
ID Female
Carleton, BYU off to good starts
The high quality of competition at the Santa Barbara Invite provided an excellent yardstick for many of the best teams in the country. #8 Carleton Syzygy went a perfect 6-0 on the weekend, with their toughest test coming in an 11-9 win over #9 Stanford Superfly in the final. Mia Beeman-Weber is showing signs of being a takeover player for a legacy program that doesn't seem to have slowed down after graduating many talents.
#10 BYU CHI also finished their schedule without losing, without missing a break! – and recorded a pair of impressive wins over the Stanford and #5 UC Santa Barbara Burning Skirts. Kate Barry's performance garnered rave reviews, as did her teammates Abbie Davis and Sylvia Brown. Losses to BYU and Carleton shouldn't dull the Stanford weekend. They defeated a major regional rival (UCSB) in the semifinals and have made an early case for being a strong contender in May. Check out reporter Graham Gerhart's top stories from Saturday to help you up to the full recap later this week.
UNC Pleiades Domino in Kickoff (Last Week)
The College Update is back in action for 2023 starting this week, so we're catching up on the Carolina Kickoff Women's Division action from a week ago. The #1 North Carolina Pleaides were more dominant than the men's team this weekend, defeating #22 NC State in the final 14-2 and allowing just 12 total goals in 6 games. Don't be fooled though: NC State is a good team. UNC is that good.
A nod to the impressive performance of the Triangle Tourists, a group of North Carolina high school students who scored a tournament-high five goals at UNC and finished third with a win over South Carolina.
Elsewhere in the Division
The #13 Northeastern Huskies flew south for the Florida Winter Classic and were the only non-Florida team in attendance. It was not pretty for the peninsula, as Northeastern topped the round robin and 1st place game, almost entirely by wide margins. They beat FSU 12-1 in the final.
#14 Virginia Hydra opened their season with a hot streak at home, defeating an up-and-coming Ohio State Fever team 12-7 to cap an undefeated Winta Binta Vinta.
In early Southeast action at the T-Town Throwdown, the Georgia Tech Wreck survived a first-round UAH scare before proceeding to eliminate the competition for the rest of the weekend.
Denver Hype got off to a great start with a tournament win on the field at New Year Fest in Arizona.
D-III
There weren't many D-III teams in action this weekend, but Richmond and Carleton CHOP took the field in the Kickoff and even managed two head-to-head matchups. Richmond emerged victorious, 15-7 and 10-8, in the two games, their only wins on the weekend. CHOP did not win.
Stay tuned for D-III Power Rankings coming soon!
Looking to the future
The first weekend of February will see many of the top men's teams from the eastern half of the United States make their Florida Warm-Up debut. Ultiworld will broadcast games live. Keep an eye out for the broadcast schedule and reasons to watch this week's tournament preview.
The Stanford Open will feature a number of teams in both divisions vying for a coveted spot on the Stanford Invite.
There should be plenty of South Central action from both divisions at Just Plain Chilly in Norman, Oklahoma, a first look at what will likely be a cocky Regionals later this year.