El Paso County – The Colorado Department of Transportation, in collaboration with prime contractor Myers and Sons Construction, will begin preventative maintenance on the bridge on US 24 over 31st Street on Sunday, September 25. This is the final phase of a larger bridge maintenance project taking place at three locations in El Paso County.
The first two phases of the project focused on the I-25 bridge over South Tejon Street and South Nevada Avenue and the CO 16 rail bridge over US 85. The project, which began in June, is expected to be completed at all three locations in late of September. Work at the US 24 location will primarily consist of bridge deck repairs, curb and gutter repairs, and asphalt overlays. Maintenance will be performed on the north and south lanes for the duration of this phase. This project will improve and extend the life of the road surface, offering a higher quality driving experience for commuters. Maintaining the structural integrity of highway bridges is critical to keeping all motorists safe.
traffic impacts
The general working hours of this section will be from 7:00 p.m. to 6:00 a.m., from Sunday night to Friday morning. The exemption to these work hours will be the total closure of the bridge for a week where the crews will work both day and night starting on September 19. Traffic will be diverted from US 24 to 21st Street onto Colorado Avenue towards 31st Street. Motorists will follow the reverse path if traveling from 31st Street to US 24. Outside of this one-week full closure, there will be potential intermittent closures. single lane in both directions through mid-October.
project information
For additional information about this project: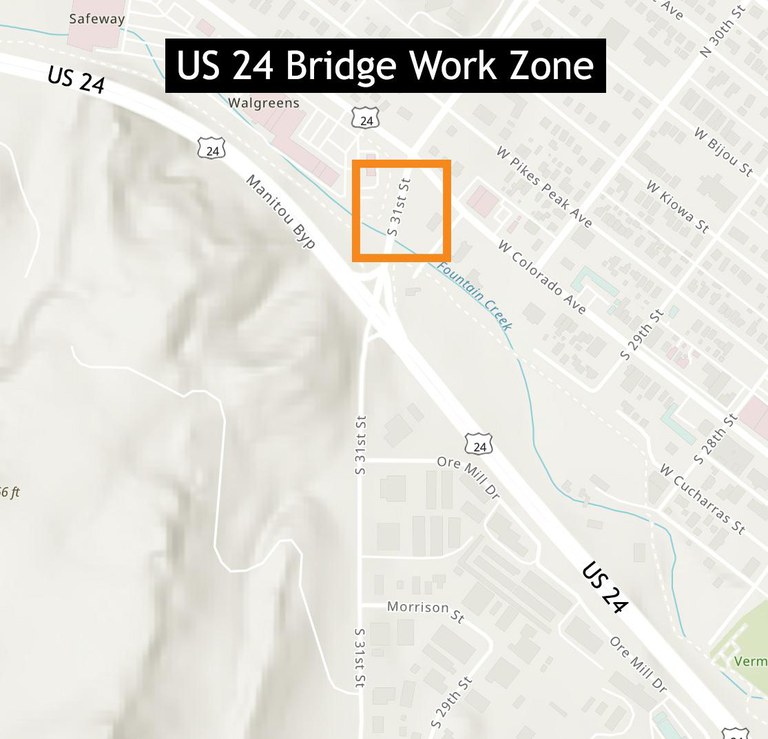 know before you go
Travelers are urged to "know before you go." Gather information on weather forecasts and anticipated travel impacts and current road conditions before you hit the road. CDOT resources include:
Remember: slow for the cone zone
The following tips are to help keep you safe while traveling through construction and maintenance work zones.
Don't speed up in work zones. Obey posted speed limits.
Stay alert! Expect the unexpected.
Watch for the workers. Drive carefully.
Do not change lanes unnecessarily.
Avoid the use of mobile devices such as phones while driving in work zones.
Turn on your headlights so workers and other drivers can see you.
Be especially alert at night while driving in work zones.
Expect delays, especially during peak travel times.
Leave a wide space between you and the car in front.
Anticipate lane changes and merge when directed.
Be patient!
Download the COtrip app!
The new FREE COtrip Planner mobile app was designed to meet the growing trend of information on mobile and tablet devices for the traveling public. The COtrip Planner app provides real-time traffic information throughout the state and works on mobile devices running on the iOS and Android platforms. Visit the google play store (Android devices) or the apple store (iOS devices) to download!