The producer behind SNK's biggest fighting franchises has claimed there is interest from "all sides" in reviving the cult series SNK vs. Capcom.
The classic crossover fighting game, in which characters from The King of Fighters square off with familiar fighters from Street Fighter, hasn't had a proper installment since 2003, in part due to SNK's bankruptcy in the early 2000s. and the switch to pachis slot machines.
Capcom released two arcade and console fighting games with its former genre rival in 2000 and 2001, while SNK released handheld games, card game spin-offs, and a fighting arcade around the same time.
New Fatal Fury / Garou Presentation Trailer
Speaking to VGC, Yauyuki Oda, the producer and designer who spearheaded SNK's fighting game renaissance in recent years (he directed King of Fighters 16 and produced Samurai Showdown, as well as this year's KoF XV), has now suggested that a new installment in the crossover series might finally be feasible.
Oda referenced collaborative promotional posters that were released at this month's Evo 2022 fighting game tournament, featuring artwork from SNK and Capcom games. Unsurprisingly, the nostalgic merchandise was well-received by fans, with Oda telling VGC that he 'reconfirmed' the public's strong interest in a possible revival of SNK vs. Capcom.
When asked if he was interested in creating a new SNK vs. Capcom, Oda said, "Definitely going forward, that's something I think everyone on all sides, on both sides, is interested in making a reality.
"Especially after we saw the reaction to the [Evo posters]… it helped us reconfirm that this is probably one of the most sought after things by the fighting game community around the world."
When asked if there were any specific plans in the works, Oda responded, "We haven't really talked in detail with anyone at Capcom about it. It could have come out as a vague comment. However, we have a lot of experience. [in crossovers] with things like Akuma and Geese in Tekken, Terry [Bogard] in Fighting EX Layer, Terry in Smash Bros. and Baiken in Samurai Showdown…
"But recently, we haven't really done anything with Capcom, not even on character collaboration stuff. So that poster [at Evo]in our sense, it was the first step for maybe something like this to happen in the future."
When asked if fans would have to wait another 20 years to see a full new SNK vs. Capcom come true, Oda-san replied, "Definitely 20 years is too much for me. We will try to do it in 10!"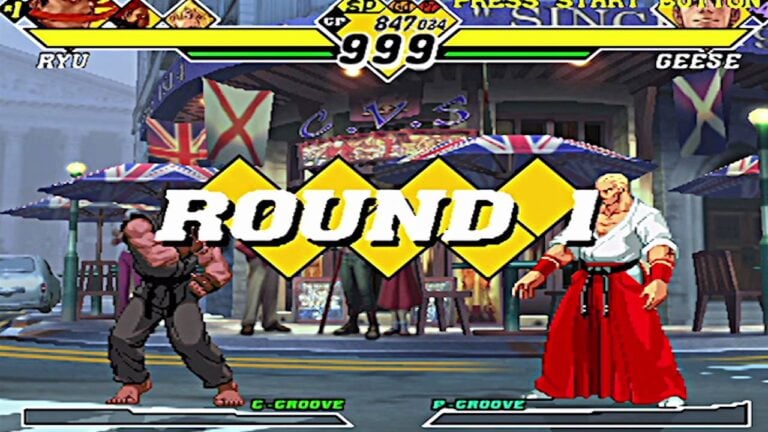 Although Oda stated that no serious talks have taken place, there have been noises from Capcom suggesting that there is interest in a new collaboration. Last year, the director of Capcom vs. SNK 2 director Hideaki Itsuno told Polygon that he would "love" to make a third game one day.
However, Itsuno is currently busy with the Devil May Cry series and the upcoming Dragon's Dogma 2.
"I actually have two ideas for one-on-one fighting games that are still on my mind," he said at the time. "It's more a question of having the opportunity to do it, so if there's someone who is willing to give me a development team and a good budget, I'm more than willing to listen."
'A unique genre'
SNK's Oda is a veteran SNK employee who helped design Fatal Fury Special (1993), The King of Fighters '95 (1995), and Garou: Mark of the Wolves (2000). After the company's bankruptcy and takeover, Oda joined Dimps, where he began working on Capcom games such as Street Fighter IV and Street Fighter X Tekken.
Having returned to SNK nearly a decade ago, Oda has spearheaded many of the company's recent fighting games, including directing The King of Fighters XIV (2016) and producing SNK Heroines (2018), Samurai Showdown (2019). and King of Fighters XV (2022).
Having worked on many of Japan's biggest fighting game series, Oda is well positioned to speak about the genre and its unique collaborative environment between rival creators.
"We have a very good relationship with [other fighting game companies]", he told VGC. "We meet very often and have dinner together. Many times, it is not [about] very specific things, but we do talk about the community and the genre in general".
"There are other genres where you would have a lot of clashes between IP and stuff, but I would say there is more overlap in the FGC and everyone is happy when a new game comes out."
He added: "A lot of the decisions are not made by the developers, but by the marketing teams. But to a certain extent, even without any inside information, we know that Street Fighter 6 is the most important thing right now, and if we go toe to toe with them, everyone will be at a disadvantage.
"Especially for something like Evo, even though there are so many different gaming communities coming together, we're all on good terms with each other and there's a lot of overlap. We just think we want to build that and make it grow even more.
"It's a unique genre in that sense, I would say. There are other genres where you'd have a lot of clashes between IP and stuff, but I'd say there's more overlap in the FGC, and everyone is happy when a new game comes out."