Getty Images/Creatas RF
Airline app downloads have surged as Australians take to the skies again, according to market intelligence firm Sensor Tower.
June saw a huge increase, with just 63% of Qantas, Virgin and Jetstar flights arriving on time.
This continued into July as many headed abroad to escape the winter.
Qantas is the most downloaded app, followed by Virgin Australia and Jetstar.
Looking at time spent on each app, most Australian airlines have seen an increase of up to 17% in average daily time.
Average daily time spent on the Qantas app is back to where it was at the start of the year, but grew sharply in April when Australia's aviation chaos began.
Data from Pathmatics, one of Sensor Tower's platforms, shows that domestic airlines continue to spend heavily on advertising, encouraging consumers to travel:
Tom Cui, MD APAC at Sensor Tower says: "The 2022 travel season is in full swing in Australia after two consecutive years of COVID-related disruptions. Sensor Tower data has revealed a huge increase in app downloads and a greater amount of time spent on these apps as consumers return to airports.
"Perhaps most notably, active ridership for major airlines such as Qantas Airways and Virgin Australia have recently surpassed pre-pandemic levels. Yet despite this surge in demand, airlines have had to grapple with a problematic mix of pent-up travel demand with uneven resources and labor shortages. This has led to an unprecedented number of flight cancellations and delays for many Australians.
"Ongoing weather-related events are not helping the situation either and we are regularly reminded of the chaos with consumers posting videos of queues winding outside check-in terminals.
"Those airline apps with a user-friendly experience will be best placed to help brands recover from Australia's airline crisis, further easing the burden on staff and regaining consumer confidence.
"We expect the Christmas holiday period to be a busy one this year and we at Sensor Tower will be keeping abreast of these aviation brands to reveal consumer trends."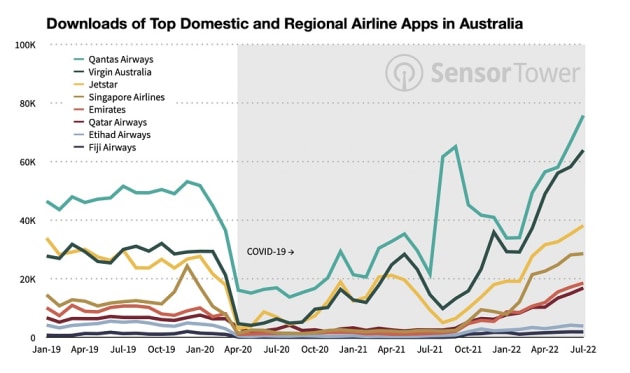 Do you have something to say about this? Share your views in the comments section below. Or if you have a news or advisory write to us at [email protected]
Subscribe to the AdNews newsletter, like us on Facebook or follow us on Twitter to break stories and campaigns throughout the day.