Screenshot via YouTube
Now that Christopher Nolan oppenheimer With only a month to go before it explodes on theater screens, it has me wishing for a movie adaptation of a much lesser-known tale of the nuclear age in which hydrogen bombs nearly went off in Alaska, which by all accounts , would have had a devastating effect. effect on everything from nearby indigenous populations to the delicate ecosystem.
Growing up in Alaska, I had no idea that the Last Frontier was almost the site of not just one of those explosions, but several of them chained together. What is more surprising is that this would not have been a secret attack by the Soviet Union, even though it took place at the height of the Cold War, but rather originated as a plan within the US government itself.
After World War II, the then-named Atomic Energy Commission (now called the Department of Energy) became interested in using nuclear bombs for peaceful purposes in a program known as Project Plowshare. One of the ideas in this program would have seen the explosion of H-bombs to create a giant port near Point Hope, Alaska, which sits above the Arctic Circle, with the proposal taking the name Project Chariot.
This is all recounted in Dan O'Neill's excellent research book, the firecracker boys, which is my personal favorite book. But what's more shocking than the proposal itself is how close it came to becoming a reality. In fact, it was only abandoned due to grassroots resistance from nearby Inupiat Eskimos and scientists working on environmental studies for the project. Before these populations spoke up with their objections, Project Chariot was apparently given a full green light by the government, as illustrated by a startling 1963 Tundra Times headline: "Project Chariot Still On/AEC Reduced Project Area, Still Plans Nuclear Blast. "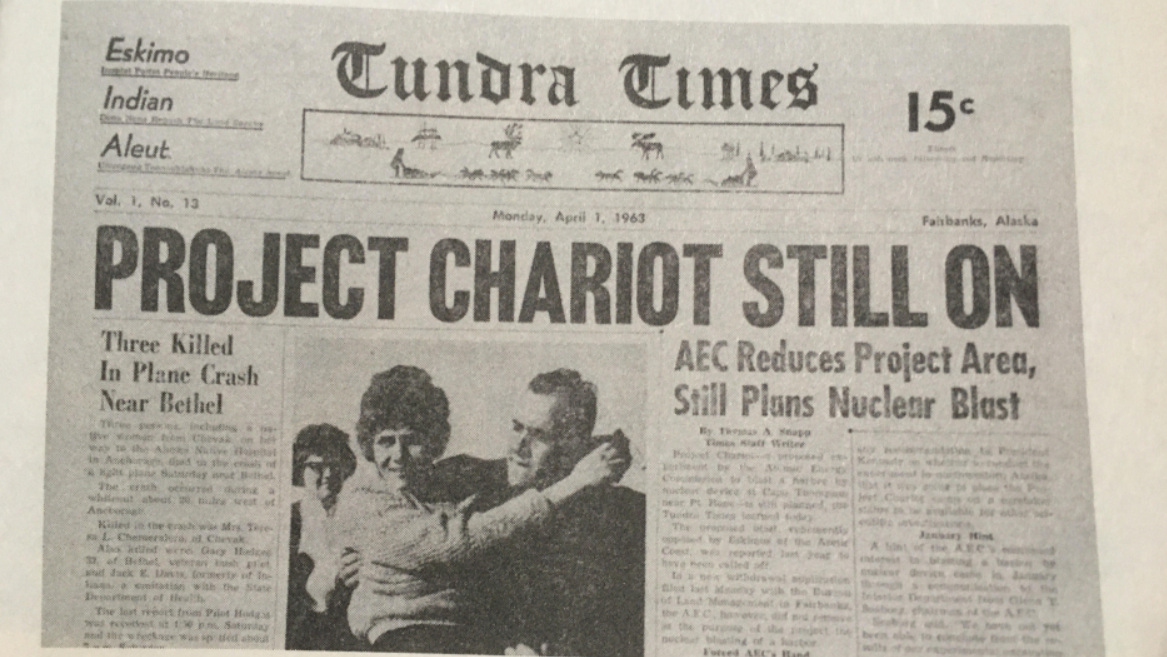 Project Chariot was the pet project of none other than Edward Teller himself, the Hungarian scientist who was part of the Manhattan Project and who later innovated the atomic bomb by inventing the H-bomb, a weapon many times more powerful thanks to its use of nuclear fusion to create your explosion, rather than nuclear fission.
Teller's original setup for the project involved firing five nuclear bombs, simultaneously, equivalent to 2.4 million tons of TNT. To put that in perspective, such an explosion would have dwarfed the explosion in Hiroshima many times over. As O'Neill explained in the firecracker boys,
"The explosion that Teller envisioned for Alaska would be 160 times greater than that of Hiroshima. In an instant, the salvo at Ogotoruk Creek would unleash a firepower equivalent to 40 percent of all the explosive energy expended in all of World War II."
Finally, a negative public perception of the project caused the AEC to suspend the activity of the Chariot Project. This was largely due to the spreading awareness of dissident scientists who warned of the project's potential environmental devastation due to ecosystem-affecting nuclear radiation and Alaska Natives who were concerned for their livelihoods and voiced their opposition. O'Neill even argued in his book that opposition to Project Chariot helped ignite the environmental movement, in general, in the early 1960s.
The movie that almost was
The amazing story told in the firecracker boys has deep connections to cinema, oddly enough. Originally, O'Neill did research on him for the book with the goal of one day creating a documentary film. But it just didn't work that way and he used the research materials to write the book. However, Hollywood has sought this story for a film adaptation ever since.
According to a November 3, 2007 interview with O'Neill for the AlaskaReport.com website, a film adaptation was in the works at one point. In the article, interviewers asked O'Neill: "We understand that there is some interest in Hollywood. A feature film? Leonardo Dicaprio? O'Neill he replied:
"Yes, it is 'in development', as they say. On HBO in association with Leonardo DiCaprio's production company, Appien Way. I understand that they have a script that moguls like and they are showing it to directors. Additionally, they have attached an actress who is native and has deep Alaskan roots: Q'Orianka Kilcher. She played Pocahontas in the movie. The new World. Part of the Kilcher clan of Kachemak Bay. Jewel's cousin.
Sadly, little information about the film has emerged since that 2007 interview.
I for one would love to see the firecracker boys turned into a movie. It's such a compelling story about how the AEC tried to cover up their own scientific research pointing to environmental damage from proposed nuclear explosions and how the US government can often treat indigenous people as expendable, sadly.
With oppenheimer hits theaters later this summer and the DiCaprio production Moonflower Killers hitting theaters this fall, two movies that no doubt share similar themes with the firecracker boys — now might be the perfect time for Hollywood to take a second look and bring this amazing story to the big screen.
About the Author